The State of Washington experiences it's fair share of auto accidents. Our accident attorneys examine common causes and types of car accidents in Washington. From T-bone accidents, accidents caused by inclement weather and poor visibility, dangerous roads, speeding and improper turns, our firm examines common causes and accidents in Washington.
Common Causes & Collisions of Car Accidents in Washington – Resources:
Speeding
Posted speed limits exist to keep motorists safe. When drivers ignore those limits, they put other people in danger, and severe accidents often result. If you were the unfortunate victim of an accident caused by a speeding driver, it's important that you understand your rights and legal options. Following a car accident, many victims are compensated for their physical and emotional injuries and medical bills by filing an injury lawsuit.
Do I Need a Speeding Accidents Lawyer?
In the aftermath of an accident, you are likely hurt, overwhelmed, and left wondering what to do. You need help paying your medical bills, but you're hesitant to contact a lawyer for fear you won't be able to afford it. The good news is that Caffee Law works on a contingency fee basis, which means that you won't pay us anything unless we get compensation for you.
As the victim of an accident caused by a speeding driver, you may be able to receive compensation for your accident-related damages by filing a lawsuit. You may be entitled to payment for costs associated with medical bills, surgeries, treatments, rehabilitation, and physical therapy. Pain and suffering compensation may also be available to victims who face long-term depression, anxiety, and post-traumatic stress disorder as a result of the accident. Being the victim of an accident is painful and expensive, but getting the compensation that you need to recover fully is difficult without an experienced attorney on your team.
The legal system can be challenging to navigate for accident victims, and negotiating a fair settlement or verdict is best left to skilled attorneys. Let Caffee Law take the stress and confusion out of filing a lawsuit. We'll handle every aspect of your case, including dealing with the at-fault driver's insurance company and negotiating on your behalf so that you can focus on healing.

What Are Common Injuries From Speeding Accidents?
The faster a car drives, the longer the distance it needs to slow to a stop. When drivers speed, they are more likely to rear-end vehicles in front of them or lose control of their vehicle. Accidents at high speeds tend to be more severe, because high energy crashes reduce the vehicle's safety systems ability to absorb the impact of the crash.
Speeding accidents regularly result in serious injuries, including:
Broken bones
Burns
Traumatic brain injuries
Neck and spinal cord injuries
Paralysis
Loss of limb
Death
If you were injured in a speeding accident caused by someone else, you may be able to recover financial compensation for your resulting losses, including:
Medical expenses
Property damage
Lost wages
Lost earning potential
Rehabilitative expenses
Pain and suffering
If your loved one was killed in a speeding accident, you may also be able to pursue a wrongful death claim on their behalf. Through this, you may be able to recover money to pay for their medical expenses, funeral and burial expenses, loss of income, loss of emotional support, and more.
Who Can Be Held Liable For Speeding Accidents?
To successfully recover compensation for your injuries, you will have to prove that the defendant was negligent. Negligence has four components:
The defendant owed you a duty of care – any driver on the road has a duty to conduct themselves with care to keep others safe.
The defendant breached their duty of care – by driving above the speed limit, the other driver put your safety at risk.
This breach directly caused your injuries – you can prove this using medical records and evidence from the accident scene.
Your injury caused you significant damages – you can prove this using medical bills and other receipts.
Washington uses the system of comparative negligence. This means that even if you were partially responsible for your injuries, you can still recover compensation for your losses, but they will be reduced in proportion to your fault. For example, if you didn't use your turn signal when changing lanes and a speeding driver crashed into you, you may be found to have been 40% responsible for your own injuries. If you would have been awarded $100,000, your award will be reduced by 40%, and you will ultimately receive only $60,000.
Improper Turns & Car Accidents
Let the improper turn car accident attorneys of Caffee Law do all of the legal heavy lifting while you recover. Contact us at (206) 312-0954 to get started on your claim today.
According to the National Highway Traffic Safety Administration (NHTSA), left-hand turn accidents occur more frequently compared to other types of accidents, making up 22 percent of all car crashes between 2005 and 2007. A large portion of these accidents (96.1 percent) happen because of driver error, much like making an improper turn.
Improper turns cause millions in damages every year, and if you are unfortunate enough to be involved in one, the process can often be overwhelmingly difficult to endure.
But there's hope. The experienced improper turn car accident attorneys of Caffee Law have made it their mission to represent those that have fallen victim to improper turn car accidents caused by a negligent driver.
If you or someone you love has been injured in an improper turn car accident, don't lose hope. Contact our Seattle car accident attorneys at (206) 312-0954 to discuss compensation options in your FREE, no-obligation consultation today.

What is an Improper Turn?
An improper turn could be easily identified as a turn without proper signaling or an abrupt lane change, but it actually goes much further than that. It is essentially a turn that violates the basic rules of traffic and puts other drivers at risk of a head-on, side, or a "t-bone" collision, formally known as a broadside collision.
An improper turn includes instances where a driver:
Ignores a "No Turn on Red" sign and commits to the turn.
Makes a right turn on a red light or stop sign without making a full stop (known as a rolling stop). This puts pedestrians and other drivers at risk.
Turns left on an unprotected red light.
Turns without signaling.
Makes an unapproved U-turn.
Turns without having the right of way.
Makes a turn from the wrong lane.
The scenarios listed above are all common causes of devastating improper turn car accidents that can cause lasting injury and death. If any of them resonate with your experience from your recent car accident, you may be eligible to file a car accident claim to fulfill your right to compensation.
How Do Attorneys Prove Negligence in an Improper Turn Accident?
Proving that the other driver was negligent is a challenge best reserved for our experienced attorneys. Often, these types of accidents are rather complicated in terms of the law, and navigating through it all can be difficult for those that have chosen to represent themselves or hire an inexperienced lawyer.
Aside from complexities within the law, improper turn car accidents in general can be quite complicated. One of the most common scenarios occurs when a vehicle belonging to the victim T-bones the other that entered your line of traffic abruptly. While this may seem like an open-and-shut case in favor of the other driver, legal resources like accident recreation can help you prove that the other driver's improper turn was the cause of the accident.
That's why inexperience doesn't pay out a maximum amount of monetary compensation that is due to the victim. Legal resources like expert testimony from accident recreation specialists is something that only an experienced Kent car accident lawyer has in their arsenal.
While we are working together to investigate your accident and gathering evidence to prove liability, it isn't unusual to receive correspondence from a defense lawyer or insurance adjuster. It may seem like a good idea to be as helpful as possible, but you should refrain from speaking to these individuals without your attorney present.
Instead, refer them to set up an appointment with us, and refrain from speaking about you and/or your claim. This could be used against you in civil court and dramatically affect the amount of compensation you could win.
What are Common Injuries Sustained in an Improper Turn Car Accident?
An improper turn car accident may warrant an immediate visit to the hospital as many different injuries—both internal and external—may be symptomless or won't manifest until a few days later. It isn't uncommon for victims of this type of accident to suffer from:
Cuts and Lacerations – Cuts and lacerations can cause minor to major bleeding, and if not properly treated, these injuries can cause an infection or blood poisoning, both life-threatening conditions.
Burn Injuries – Burn injuries can range from minor to fatal. In some instances, skin grafts may be required, which is a costly process.
Soft Tissue Injuries – When muscles, ligaments, or tendons stretch too far or tear, the pain is often debilitating.
Broken Bones – Broken bones may require surgery in order to properly heal. These painful maladies can often cost a lot to treat, making compensation from a car accident claim all the more necessary.
Neck and Back Injuries – These injuries often include whiplash, strains, sprains, herniated discs, and other types of spinal cord injuries.
Spinal Cord Injuries – Spinal cord injuries differ from neck and back injuries. They affect the movement or sensation of the victim's limbs, especially their legs.
Head and Brain Injuries – Head and brain trauma sustained in an improper turn car accident can cause internal bleeding, skull fractures, concussions, and a multitude of other traumatic brain injuries.
All of these injuries listed can cost tens of thousands of dollars to treat, with piles of medical bills overflowing from your mailbox through no fault of your own. Our dedicated improper turn car accident attorneys can help you solve this concern through the acquisition of incident reports and hospital bills to determine the overall value of your car accident claim.
What Compensation Is Available For Victims of an Improper Turns Car Accident?
With the right legal team by your side, there are several areas of compensation that you have a chance at winning depending on the specific details filed in your improper turn car accident. These types of compensation include:
Medical Expenses – The compensation you win from your car accident claim can be used to pay off medical expenses incurred because of an improper turn car accident, including:

Hospital Bills
Physical Therapy
Cognitive Therapy
Medical Supplies
Ambulance Fees
Permanent Disability Costs
In-Home Care Services
On-Going Care and Treatment

Lost Wages or Loss of Earning Capacity – Long-term injuries sustained in this type of car accident can cause you to miss out on work. To prove this, your employer must be able to send over a letter stating the salary you earn and the hours you have missed but would've worked if you didn't sustain the injury.
Pain and Suffering – Physical or mental distress that affects your quality of life is often awarded compensation. The amount is usually calculated by the type and severity of the injury and the financial consequences it has caused.
Property Damage – Costs for the repairs of your vehicle can drain your bank account and leave you without a ride to work. Compensation for property damage remedies this as well as any property that was within or on top of the car at the time of the accident.
Out-of-Pocket Expenses – Expenses such as rental car fees, taxis, over-the-counter medical supplies, or other related expenses that are paid out of pocket can be included in your settlement offer as well.
With expenses accumulating, you may find yourself becoming more and more stressed as time goes by, which can stifle your recovery process. But with a compassionate improper turn car accident attorney from Caffee Law, you won't have to worry about these costs once we have won your due compensation.
How You Can Stay Safe From Improper Turn Accidents?
Avoiding improper turn car accidents begins with one's self. To stay safe:
Take your time and turn in one smooth motion.
Ensure that your turn signal is activated at least 100 feet before you make your turn.
Ensure that you have the right of way when making a turn.
Always look for any oncoming traffic before committing to your turn.
Don't let other drivers intimidate you into making your turn. Only turn when you feel safe.
Follow the road signs and avoid making illegal turns.
With these tips in mind, keep vigilant of other drivers' actions when on the road as well. If you see any of them going against the tips listed above, slow down to make as much space from them and your vehicle as possible.
With our years of experience in improper turn car accident lawsuits and plenty of legal resources and strategies at hand, earning the compensation that is owed to you has never been easier. Contact Caffee Law at (206) 312-0954 or online for unmatched legal representation for your car accident claim today.
Auto Accidents & Dangerous Roads
There are many types of roadway hazards that can lead to motor vehicle accidents.
Even if your vehicle functions well and your driving skills are all perfectly sharpened, drivers can still be at risk of life changing roadway accidents if road conditions are sub-par.
A portion of government spending, be it local, state, or federal, is meant to be allocated towards maintaining safe highways and roads. That includes providing effective and proper design, construction, and maintenance of the roads on which we travel.
If you are injured in an accident that was the result of defective or dangerous road conditions, certain parties – including government entities – may be held accountable these roads hazards lacked adequate warnings.
Contact the Renton car accident attorneys at Caffee Law for a seasoned team of dangerous road accident attorneys that can help you seek justice and secure compensation if you or a loved one has been injured in a dangerous roadway accident. Reach us today at (206) 312-0954 or contact us online to schedule your FREE case review.

Why Are Dangerous Road Conditions a Leading Cause of Crashes?
Roadway hazards are a significant cause of motor vehicle accidents such as rollovers. Dangerous road conditions such as bad weather, difficult road condition, poor lighting, heavy traffic, or even road work can create dangerous scenarios for single vehicle or even cause a chain reaction of events in which multiple parties are involved.
There are several types of road hazards that can result in accidents which lead to serious injuries and possible fatalities. These include errors in design, construction, maintenance, or even failure to make proper adaptations to changing road conditions.
Defendants may argue that your accident was the result of driver error and had little to do with the conditions of the road on which you traveled. However, time after time, vehicles continue to run off the road and/or collide with fixed objects due these road hazards they face.
A safe road is one that has a smooth and stable surface, with no unexpected "trips" to interrupt the path. "Trips" are classified as any object, rail, pot hole, loose gravel, deep groove, or other obstacle which may cause a tire to lose contact with the road. When this occurs, serious or even fatal crashes are completely possible.
Another serious cause of dangerous roadway accidents is construction. While signs are often placed around construction projects, on occasion, workers may fail to provide proper and visible warnings. Without being informed that construction is taken place, drivers may crash into a construction vehicle, may not reduce their speed when traveling through a construction area, or may get involved in some sort of incident because of this lack of warning.
It is still the responsibility of government agencies to make sure roads are safe to travel by and any obstruction which they have control over is removed for the safety of drivers.
What Dangerous Road Conditions Lead to Commonly Cause Accidents
Local and state governments have a duty to make roadways free of hazards through the design, construction, and maintenance of said roadway.
The location of your accident will determine who is responsible for maintaining the roadway. Generally, if your accident occurs on a highway, you may file a claim against the Washington Department of Transportation (WSDOT). If the accident takes place on a city or county maintained road, then you may be able to file a claim against the local governing body responsible for maintenance.
The following are examples of dangerous road conditions which can result in catastrophic or fatal accidents:
Defect in Design
Dangerous curves, slopes, and dips in the road
Obstructions that reduce visibility at intersections and crosswalks
Unexpected drop-offs along the path
Dangerous merging caused by entrance and exit ramps that are too short
Ineffective or missing guardrails causing lack of protection
Lack of skid resistance in pavement
Faulty drainage systems that lead to hydroplaning
Lack of, defective, or wrong placement of advisory signage
Parking policies that obstruct visibility in busy intersections
Shoulders that are not distinguishable from road
Improper placement of highway traffic signals
Defect in Construction
Materials that are not suitable or effective
Workmanship that is not suitable or effective
Plans that were not executed properly
Defect in Maintenance
Lack of attention to or remedy for potential dangers such as:

Potholes
Ineffective guardrails
Faulty highway traffic control lights
Erosion or lowered visibility of painted markers
Deterioration or removal of signage and warnings
Defect in Failure to Change
Road subsidence or cave-ins
Ignoring remedy to roads where accidents are persistent
Failure to remedy potential hazard that appears in road survey
If you have suffered serious injuries as the result of a car accident caused by a dangerous roadway, contact Caffee Law right now. Our Seattle car accident attorneys are more than capable of holding government bodies responsible for the damages they have caused you.
What Should I Do If I a Roadway Hazard Caused My Accident?
Because these types of incidents generally involve lawsuits against government bodies, they can be more complex than "traditional" car accidents. Thankfully, the seasoned legal support of Caffee Law can help to make the process a lot less stressful.
If you have been involved in an accident, consider taking the following steps:
Seek appropriate medical attention. No matter the severity of your injuries, it is essential to assess your injuries. Whether a paramedic assists you at the scene or you are examined at the emergency room, be sure to document all injuries and medical expenses. This data will later serve as evidence to support your claim.
Contact the authorities. Police may arrive at the scene of the accident and file a report. Be sure to ask questions such as when you may receive a copy of any reports made.
File a Collision Report Form. As per the Washington Department of Transportation, accident reports must be filed within 4 days of the accident. Such reports will require specific personal information, including insurance coverage data. Individuals should also report if any road hazards that contributed to the accident.
Get legal counsel from a seasoned dangerous road accident attorney. Gathering evidence for a hazardous roadway claim begins at the scene of the accident. The sooner that you contact Caffee Law, the better your chances for securing compensation for the damages you have suffered.
File a roadway accident claim. Remember that in hazardous road claims, the defendant is the government. The government had a duty to make public roads as safe as possible for drivers and hazards which cause accidents are a breach of the duty of reasonable care. You should not face the expenses of your injuries alone.
If a roadway hazard has caused an accident which brought you harm, you will need the support of a qualified roadway accident attorney that has the necessary knowledge and resources to handle a claim against government entities.
Claims Filed Against Governing Bodies
As per the principle called "sovereign immunity," not many legal claims may be made against governmental bodies without their consent. Though there are rigid filing expectations and strict deadlines for such claims, an attorney that is adept in such legal pursuits can help you obtain the justice you deserve regardless.
Through years of experience in filing and securing claims against state and municipal bodies for injuries that resulted from dangerous roads, our firm will deliver strength and confidence in this battle. Proof is essential in these claims.
If the government refutes your claim concerning a dangerous road condition, support for your claim can be achieved in the following ways:
Display evidence from survey records. History of accident records and topographical maps can be used to prove that the road danger has yet to be resolved despite its record.
Show how the government should have known about the hazard. Typically, their information is sourced from people reporting the hazard or the regular road surveys that must be maintained.
All motorists are entitled to safe road conditions. The only way to achieve this and reduce the number of accidents caused by road hazards is to ensure that the agencies that create and maintain the highways exercise reasonable care to implement or remedy any foreseeable dangers.
If you or a loved one has been harmed in an accident caused by hazardous road conditions, then action must be taken to hold responsible entities accountable. By pursuing a claim against a government entity for your dangerous roadway accident, you are not only seeking justice and compensation for yourself, but are also making a change that can help to prevent another serious accident.
For a FREE case consultation, contact Caffee Law right now at (206) 312-0954. We will not rest until you get the results you deserve.
Inclement Weather Car Accidents
Were you or your loved one involved in an accident due to inclement weather? Contact the Seattle car accident attorneys of Caffee Law to begin the process of making a claim to secure maximum compensation for the damages you have suffered. Reach us right now at (206) 312-0954 or online for a FREE confidential consultation with one of our experienced Seattle injury attorneys.
Poor weather conditions can result in catastrophic – and even fatal – car accidents. Rain, sleet, and snow can create slippery roads, and when coupled with low visibility, can easily lead to a multi-vehicle crash.
Driving in severe weather can significantly increase your risk of getting involved in a dangerous situation, and for this reason, it is generally in your best interest to avoid driving altogether. However, there are situations in which you may not have much of an option.
Unfortunately, inclement weather is a leading cause of car accidents. According to the U.S. Department of Transportation Federal Highway Administration (FHWA), approximately 21 percent of all crashes are weather-related. That is over 1.2 million crashes that take place each year as a result of adverse weather.

How Does Inclement Weather Affect Drivers?
Adverse weather conditions can affect drivers in a number of ways including:
Roadway capacity can be affected by heavy rains which lead to flooding, road closures or access restrictions, debris accumulation, or obstruction of the road due to snow buildup.
Drivers are affected by mobility and speed reduction on wet or snowy pavement. Not only must drivers slow down to accommodate the weather but they may also be required to take evasive action in order to avoid colliding with another vehicle.
Inclement weather generally leads to a lowered range of sight, especially in conditions such as heavy thunderstorms, snowstorms, or thick fog. When vision is reduced to a few feet in front of the driver, it can be difficult to stay safe on the road.
Adverse weather conditions can include heavy rain, fog, icy roads, snowstorms, dust storms, heavy winds, hail, and flooding.
How To Determine Liability for an Inclement Weather Car Accident?
Every driver has a duty of care when on the road. This means that they must drive in a reasonable manner in order to maintain proper control of their vehicle to avoid a car accident. When bad weather is a factor in a car accident, it is important to prove that the responsible party failed in this duty of care and did not meet the standard that was appropriate for the weather conditions.
Generally, driving in bad weather means that you must exercise a higher level of care.
For instance, the Seattle metro area sees significant amounts of rain throughout the year and the occasional snowfall. When heavy rains decrease visibility, every driver should reduce their speed. Failing to adjust their speed to bad weather conditions can be taken as an act of negligence. A negligent driver who speeds in rainy weather and crashes into you will generally be held liable for their actions.
Liability can also be placed on the negligent driver if:
The individual knowingly drove with worn tires or broken windshield wipers.
Failed to use lights while driving.
Was under the influence of drugs or alcohol while driving.
Drove in a negligent, aggressive, or reckless manner such as tailgating.
Failed to obey traffic laws, traffic signals, or road signs.
In certain instances, even a single-vehicle accident can be caused by another driver. A negligent driver who swerves into your lane, for instance, may cause you to maneuver in a manner that causes you to drive off the road or crash into an object. In these instances, our Seattle attorneys can help to determine who is liable for your single-vehicle accident and then help you pursue damages.
Let our determined team at Caffee Law help you uncover who is responsible for the damages you have suffered and hold them accountable. Contact us today at (206) 312-0954 for a FREE consultation and to learn more about your legal options.
Statistics Shows Weather Has a Heavy Impact on Driver Safety 
Weather-related crashes are a very real issue which can have a monumental effect on your life. When getting behind the wheel during adverse weather (i.e. rain, sleet, snow, fog, severe wind, icy pavement, etc.) always be extremely cautious.
The FHWA highlights some startling statistics regarding weather impact on driver safety:
On average, nearly 5,000 lives are lost each year in the United States (based on a ten-year average between 2007 to 2016).
Over 418,000 people are injured in weather-related crashes each year throughout the country (based on a ten-year average between 2007 to 2016).
The majority of weather-related crashes tend to happen on wet pavement and during rainfall; 70 percent of weather-related crashes occur on wet pavement, while 46 percent occur during rainfall.
18 percent of weather-related accidents are attributed to snow or sleet, while 13 percent occur on icy pavement.
On an average year in the United States, roughly 15 percent of fatal crashes, 19 percent of injury crashes, and 22 percent of property damage only crashes are related to adverse weather.
How to Stay Safe While Driving in Stormy Weather?
Preparation and patience are key to traveling in inclement weather. Remember to use common sense and avoid driving in an aggressive or reckless manner that can put you – and others – in harm's way. To best protect yourself and your passengers when driving in stormy weather, follow these tips:
Avoid driving unless absolutely necessary. In severe rain or snowstorms, it is best to avoid driving entirely. Heavy rain will generally pass after a few hours. If you must travel during a storm, allow the worst of it to pass before getting behind the wheel.
Slow down when driving in adverse weather. As the statistics have shown, wet roads are extremely dangerous. Avoid putting your well-being at risk by slowing down and driving slower than the speed limit. Don't allow another driver to force you to speed up either, simply give them room to pass. Don't risk your life because of another's negligence.
Leave room for other drivers. This tip should be coupled with the "no speeding" tip. Slow down when driving in adverse weather and leave extra distance between you and the vehicle in front of you. Remember, rain, snow, and ice will generally require you to brake earlier than usual, so you will need that extra space to make up for this.
Check your vehicle before a long trip. If you are going to be traveling some distance and are expecting adverse weather, make sure to check your tires for adequate tread, your windshield wipers, as well as your headlights, tail lights, brake lights, and turn signals. These basic components need to be in top shape to keep you safe.
Use your headlights. If you cannot see more than 1,000 feet in front of you because of weather conditions, you are required by law to turn on your headlights. You'll be able to see the road better and will also help other drivers to see your vehicle better.
Do NOT slam on your brakes. In rainy weather, slamming on your brakes is likely to lead to hydroplaning. Instead, avoid driving fast and take your foot off the accelerator earlier than you normally would. Then, gently press your brake pedal.
Turn off your cruise control. Using cruise control in adverse weather can result in you losing control of your vehicle. Turn it off.
Use common sense. Negligent or distracted driving in good weather is dangerous enough, let alone inclement weather. Use common sense when driving in bad weather. This includes avoiding using a cell phone, mobile device, or engaging in any dangerous behaviors when driving.
Seattle Rollover Accident Attorneys
An experienced car accident attorney can examine all the factors, help you collect vital evidence, and if necessary, pursue legal action against other drivers, vehicle manufacturers, municipal authorities or other parties who may be partly or totally at fault.
Although rollover car accidents are not very common — they occur in only about 2% of passenger car, SUV, pickup, and van crashes — they are among the deadliest types of accidents, accounting for about one-third (35%) of all car accident fatalities. Additionally:
In most fatal rollover crashes, the victim(s) was/were not wearing safety belts.
In about half of all cases, rollover car accidents are the result of intoxicated driving, and can occur even when blood-alcohol content is low.
Despite the fact that most rollover accidents are single-vehicle crashes, the driver is not always at fault.
If you have been involved in a rollover car accident in Washington State, the experienced attorneys of Caffee Law can help you pursue a product liability lawsuit for defective vehicle or tire design, or even a premises liability lawsuit against an individual or municipality responsible for maintaining the road where the crash occurred.
Before pursuing legal action, however, you should understand the medical and legal issues that can affect liability and compensation for a rollover accident.

What Factors Can Lead to a Rollover Accident?
Most rollover car accidents (85%) are single-vehicle crashes and fall into two types of crashes:
Tripped crashes are caused by some external factor such as when a car drives over a curb or collides with another vehicle.
Untripped crashes are caused when the vehicle is somehow destabilized, such as when a driver makes too sharp a turn and the car begins to slide sideways.
Since most rollover accidents are single-vehicle crashes, it is often assumed that the driver is at fault, whether due to negligence or simply being unable to control the vehicle due to external conditions (such as bad weather). However, there are many cases where the driver is not at fault and some other cause is to blame. For instance:
There may be some flaw in the design of the vehicle or some individual parts of the vehicle, such as defective tires.
Dangerous roadways can be caused by bad weather (slippery pavement, lack of visibility) or even poor road maintenance by whoever is responsible for maintaining the roads (whether a private owner or municipality).
Even if there are no flaws, per se, in the design of the vehicle, certain types of vehicles (particularly SUVs and vans) are more highly susceptible to rollover crashes because they have more weight, higher center of mass, narrowness of axle track, steering sensitivity, etc.
In one out of five cases, rollover crashes are caused when one vehicle is struck by another vehicle.
Many cities will post special road signs to warn drivers when there are dangerous curves ahead, as these "critical slopes" or uneven terrain are often the cause of a car rollover. In the State of Washington, where the natural environment is such a major lifestyle factor, drivers should beware of overloading their vehicles as the excess weight can cause it to flip over, especially on rural roads that are undivided or don't have barriers.
What are Common Injuries In a Rollover Accident?
Not surprisingly, rollover crashes are extremely dangerous and are second only to head-on collisions when it comes to the severity of injuries an individual may suffer. The injuries sustained in a rollover accident are affected by the type of vehicle, the speed at the time of the crash, and other factors such as how heavily the car is loaded with weight.
Some common injuries in rollover accidents include:
Injuries to head, neck, thorax, abdomen, upper and lower limbs
Brain injury
Spinal cord injury
Cuts, scrapes, or bruises
Broken bones
Long and short-term injuries
Impaired speech, vision, or memory
Partial or total loss of vision or hearing
Loss of teeth and other dental injuries
Amputation to arms or legs
Chronic back pain
Damage to nerves, veins, or organs
Torn ligaments
Soft tissue injuries such as pulled muscles and tendons
Slipped and herniated discs
Skull fracture
Cuts and lacerations to the head
Because speed is usually a major factor in rollover crashes, the results are often devastating. Three out of four rollover accidents take place when the speed limit is 55 mph or higher. Certain types of vehicles such as convertibles may offer little protection to passengers when a car rolls over. In a convertible, the windshield frame may be the only thing protecting passengers once the car rolls over, which means direct damage to the head is likely to occur.
In many cases, passengers are not wearing safety belts and this can make the injuries sustained even more damaging. The vast majority of rollover accidents occur during routine driving maneuvers such as when the vehicle is driving straight ahead or negotiating a curve. This means that even when speed is not a factor, the lack of a safety belt in normal driving conditions can make a rollover accident even worse. Drivers rarely expect to be involved in a rollover crash.
Regardless of how a rollover accident occurred, drivers should never assume that they were at fault because there may be multiple factors involved. By contacting the attorneys at Caffee Law as soon as an accident occurs, you can explore all factors and determine what happened, who is responsible, and what compensation you may be entitled to in Washington State.
What Laws Exist in Washington That Can Impact a Rollover Claim?
Seattle is a busy city and car accidents are, unfortunately, a common occurrence throughout Washington State. A crash occurs every 4.5 minutes in Washington State, according to the Washington State Department of Transportation. The Revised Code of Washington (RCW) 46.52.030 requires a standard Police Traffic Collision Report (PTCR) when an injury or death occurs to any person or there is damage to the property of any person to an apparent extent of one thousand dollars or more.
The State of Washington is classified as an at-fault state in determining compensation for victim damages. It is also a comparative negligence state, meaning that fault for a crash can be shared and financial compensation is possible even for an at-fault party. It is necessary to first determine who is at fault before pursuing compensation, and there may be multiple parties involved including the drivers, vehicle manufacturer, or the state itself for improper road maintenance.
What Compensation Can I Recover After a Rollover Accident?
As with any vehicular accident claim, damages and compensation are not limited to the property damages or physical injuries sustained during the crash. Other forms of compensation can include:
Emotional or psychological damages
Recovery for lost wages if the passengers are unable to return to work
Medical bills or long-term medical treatment
Cost of surgery
Particularly with rollover accidents, because fatalities are so common, compensation can often include funeral costs and even monetary support for the surviving spouses, partners, or other family members.
Rear-End Accidents
Rear-end accidents are some of the most common types of two-vehicle crashes and can involve both cars and trucks. According to the National Transportation Safety Board (NTSB), almost half of all two-vehicle crashes between 2012 through 2014 were rear-end crashes and killed more than 1,700 people each year.
In the vast majority of cases (87%), rear-end crashes involve a driver failing to pay attention to the traffic ahead, which means that determining accident liability (i.e. which driver is at fault) is usually a straightforward case. The tailing driver is usually at fault, but there are many instances where the first vehicle can be held liable, such as when a big rig truck driver needs to slow down and brakes too quickly, causing a multi-vehicle collision.
If you have been involved in a rear-end accident in the Washington state, whether caused by the driver of another passenger vehicle or the driver of a commercial truck, the experienced Federal way car accident lawyers at Caffee Law can help you determine liability, as well as help you bring those who have harmed you to justice. We will not stop fighting for you until we have secured full and fair compensation for the damages you have suffered.

What are Common Causes of Rear-End Accidents?
Since most people drive personal vehicles, the majority of rear-end accident cases involve two cars, and even at low speeds, these accidents can cause soft tissue injuries.
Rear-end accidents can be caused by something as simple as a driver looking away from the road to check their cell phone or something more serious such as an intoxicated driver whose reaction time is slowed down or delayed.
Some of the most common causes of rear-end accidents involving passenger vehicles include:
Driver inattention or distraction ⁠— This has become more of a problem as drivers have more things inside the car (phones, GPS devices, television screens, etc.) to distract them. Fortunately, today's automated safety systems are helping to reduce these sorts of "mindless" and unnecessary accidents. Nevertheless, negligent driving is still a leading cause of rear-end crashes.
Tailgating ⁠— This occurs when a driver follows another car too closely and is unable to brake in time when there is a sudden or unexpected stop.
Panic stops ⁠— These accidents can occur even when a driver is not tailgating but the car in front of them makes an unnecessarily abrupt stop. This is one of the cases where the first car may be at fault for the rear-end crash.
Reduced traction ⁠— When there is bad weather or the road is wet or worn, car tires may lose traction and begin hydroplaning or skidding. Anyone who has driven in snowy or icy conditions knows what this feels like and rear-end accidents are often unavoidable once there is reduced traction.
Deceleration or acceleration ⁠— This often determines accident liability and can involve the first car slowing down unexpectedly (such as when double parking) or the trailing car accelerating at the wrong time (such as trying to beat the red light at an intersection).
Your dedicated team at Caffee Law can help to determine the exact cause of your accident and who may be held liable for the damages you have suffered. Contact us today at (206) 312-0954 for a free case evaluation.
What Common Injuries are Suffered in Rear-End Accidents?
Because rear-end accidents are so common, most people are familiar with "whiplash" or damage to the neck, shoulders, and upper back when the head is violently and suddenly thrown back from the crash.
In fact, whiplash has gotten something of a bad reputation because it is often a "soft tissue injury" that can be hard to prove or quantify, even with an MRI. It can involve sprains, strains, muscle and tendon injuries. Lawyers often use other terms such as "myofascial injuries" to describe whiplash to make sure it is taken seriously, because even at low speeds, whiplash due to a rear-end accident can cause permanent and lasting damage.
Alongside whiplash, there are other common injuries that the team at Caffee Law has frequently noted:
Back injuries
Broken/fractured bones
Cuts and bruises caused by deployment of airbag
Paralysis
Concussion
Traumatic brain injuries
Wrist and arm injuries
Disfigurement
Who Can Be Held Liable in Rear-End Auto Accidents?
As mentioned above, the majority of rear-end accidents are straightforward cases where one vehicle is at-fault for crashing into another vehicle ahead of it. But there can be many complicating factors in rear-end crashes and it is important to speak with an experienced rear-end accident lawyer who can examine all the facts in a case.
There are many medical and additional legal factors in your case so the team at Caffee Law will coordinate with a supporting team of medical and legal professionals to ensure we have a clear understanding of your claim.
Not only can individual drivers (car or truck) be held responsible, but also truck companies, car manufacturers, and even city/state authorities can be held liable for issues such as faulty manufacturing or poor road conditions.
What Compensation Can I Recover After a Rear-End Accidents
In cases where there is no personal injury, calculating compensation for rear-end accidents is usually a simple matter of determining how much repairs will cost.
More complicated cases, however, may involve substantial personal injury and even death, and victims of serious rear-end accidents are entitled to full compensation not only for physical injury but other consequences such as medical costs, emotional or psychological damage, the cost of a funeral, and benefits from lost wages (for example, when truck drivers are unable to drive anymore due to a rear-end accident).
T-Bone Accident Lawyers in Washington
T-bone accidents, which are sometimes called side-impact or angle collisions, are one of the most dangerous types of car crashes. When another car crashes into the side of your vehicle, your car and you inside experience intense force. The impact affects one of the most vulnerable areas of your car. Although seat belts and side airbags can help reduce the intensity of the crash, you and your loved ones might still suffer devastating physical injuries.
Unfortunately, dangerous T-bone accidents occur frequently throughout the United States. According to the National Highway Transportation Safety Administration (NHTSA), angle accidents make up 21.5% of all collisions that occur during the year. In 2018, side-impact collisions caused approximately 515,000 serious injuries and 6,037 deaths on U.S. roads. These statistics demonstrate the high risk that you and your loved ones face every time you get into your car.
In many cases, T-bone collisions are entirely preventable. If every driver acted responsibly and protects the safety of others, they simply wouldn't happen.
Even a single negligent or reckless choice while driving can pose a threat to every person on the road. When a driver neglects their duty to keep you and your loved ones safe, they need to face the consequences for the harm they have caused. You shouldn't pay for an accident that another driver caused.
The Seattle car accident attorneys at Caffee Law are prepared to protect your rights and fight for the compensation you need. We have the legal skills and experience necessary to help you build the strongest case possible, and we won't stop working until you get a fair settlement.
Take action on your case as soon as possible, so contact the attorneys at Caffee Law right now to schedule a free consultation. Call (206) 312-0954 or fill out our online contact form.

What are Common Causes of T-Bone Accidents?
A T-bone accident can occur in a matter of seconds, any time a driver makes a careless decision on the road. Most T-bone collisions occur at intersections, where traffic moves in perpendicular directions.
When a driver doesn't follow the laws of the road at an intersection, they risk colliding with a vehicle that's crossing in front of them. This can lead to a dangerous side-impact crash and serious injuries.
Unfortunately, many drivers don't take road safety regulations seriously. Reckless and negligent drivers make bad choices behind the wheel.
Most T-bone accidents are a result of driver error and reckless behavior like:
Running stop signs or traffic lights
Making an unsafe left turn or U-turn
Failing to yield the right of way
Speeding
Texting while driving
Distracted driving
Driving while fatigued
Intoxicated driving
Responsible drivers avoid or prevent these dangerous situations. But when a driver makes poor decisions on the road, they're much more likely to cause a dangerous or even life-threatening accident.
Engaging in negligent behavior on the road is a choice, and drivers need to know that there are consequences for their actions. If a negligent, reckless, or irresponsible driver hit you in a T-Bone accident, demand the compensation you deserve with Caffee Law.
What are Common Injuries In T-Bone Accidents?
When you experience a T-bone collision, you may experience intense force across your entire body. A T-bone accident can crush the side of your vehicle, potentially pinning you in your car. Even if your car withstands the impact of the crash, your body will still experience substantial force.
The force of a car crash can cause serious injuries to any part of your body, depending on your position in the car and the location of the impact.
Some of the most common injuries victims of T-bone collisions suffer include:
Lacerations and bruises
Whiplash and neck injuries
Joint dislocation
Broken or shattered bones
Back or spinal cord injuries
Internal organ damage
Concussion or traumatic brain injury
Any of these injuries may require immediate medical attention as well as ongoing treatment for weeks, months, or years after the accident. Even with proper medical care, victims may experience serious effects from your injuries for the rest of your life.
Receiving medical treatment after a collision is essential for your health and well-being. Unfortunately, these services are expensive, and as a result, you may face a significant financial burden. You shouldn't have to pay for the physical harm another driver caused, and your T-bone accident claim can help.
What Damages Can I Recover After a T-Bone Accident in Washington?
Serious car accidents often cause substantial physical injuries, property damage, and emotional harm. The costs of a T-bone collision can reach thousands of dollars in medical bills and property damage. Fortunately, your T-bone accident injury claim can help get you the financial support you need during this difficult time.
The amount of compensation you receive from your claim will depend on the severity of your injuries and their long-term impact on your life. Although every T-bone accident is different, in most cases, your injury claim will provide compensation for damages, including:
Pain and suffering
Past and future medical bills
Rehabilitation services
Repair or replacement of damaged property
Past and future lost wages
Inability to return to work
Temporary or permanent disability
Your car accident attorney will use the details of your case to determine the amount of compensation that you should expect for your injuries. They'll negotiate with all parties involved in your collision to make certain that you receive the financial support you deserve. If the insurance companies offer you a settlement, they'll review it to make sure it's fair. If not, they'll take your case to court.
Money can never take away the pain that you've experienced as a result of a T-bone collision. But compensation can give you the support you need to provide for yourself and your loved ones now and in the future.
Single-Vehicle Accident in Washington
If you were injured in a single-vehicle car crash, it's important to turn to an experienced car accident attorney. Most drivers in a single-vehicle accident will blame themselves for the wreck, but, in fact, many of these accidents are caused by external factors, such as a road defect, debris, or another careless driver.
The attorneys at Caffee Law will investigate your accident to identify the at-fault party and help you recover the full compensation you need for your medical expenses, missed wages, pain and suffering, and other losses.
For more than ten years, Caffee Law has advocated for injured victim's rights to ensure they receive the maximum financial award available. It can be difficult moving forward after a traumatic accident occurs, but we'll be by your side to help you navigate the legal process, answer all your questions, and even help you find the best doctors for your needs.
Our Seattle car accident lawyers are ready to fight for justice. Call us today at (206) 312-0954 to schedule your free consultation. We're ready to get started, and we won't charge you a thing unless we win compensation for you.
How Can I Recover Compensation After a Single Vehicle Accident in Washington?
It's important that you take immediate action after a car accident to ensure you're able to pursue the compensation you need to treat your injuries. There are strict deadlines you must adhere to whether you file an insurance claim or lawsuit. Following are steps you can take right after your car accident to protect yourself and your rights:
Step 1 – Call 911. When a car accident causes an injury, fatality, or at least $700 in property damage, you must report it to the Washington Department of Transportation. Wait for an officer to arrive at the scene. They can write a collision report and send it to the DOT, so you don't have to.
Step 2 – If it's safe to get up and walk around, collect any evidence you find at the crash site. You can take photos of the damage to your car, debris on the road, and other relevant details you see. If the cause of your accident was a pothole or fallen road sign, you should also take pictures of that to prove another party was at fault.
Step 3 – Speak to bystanders who saw the accident occur. Write down their names and phone numbers so they can confirm your version of events when you file an insurance claim or lawsuit.
Step 4 – Seek medical treatment after leaving the accident scene. Even if you believe your injury is minor, you shouldn't wait to see a doctor. Sometimes the initial shock shields people from pain and hides symptoms of an underlying issue. If the medical provider refers you for additional treatment, imaging tests, or an appointment with a specialty doctor, follow their instructions. You should also receive ongoing treatment until you make a full recovery.
Step 5 – Take your vehicle to a repair shop for a damage estimate. Keep a copy of the report as evidence of an expense caused by the accident.
Step 6 – Hire a personal injury attorney from Caffee Law. We have experience managing cases like yours and will handle every step of the legal process for you.
What are Common Causes of Single-Vehicle Accidents?
Various external factors could contribute to a single-car accident. Sometimes, it's a defect, such as a damaged road sign; however, many times, another person is involved. Here are some of the most common causes of single-vehicle accidents:
Another driver: One of the most common causes of single-vehicle crashes is another driver or pedestrian. Driver error and inattention are common factors. Examples include:
Speeding
Tailgating
Failure to yield the right of way
Impaired by drugs or alcohol
Reckless driving
Fatigued driving
If another motorist does something that requires you to brake suddenly or swerve out of the way, you could collide with a stationary object or end up in a ditch. Pedestrians who jaywalk or enter a crosswalk when they have a red light could also cause drivers to get hurt in an accident.
Malfunctioning traffic signals: When a stoplight or signal isn't working correctly, it can disrupt the flow of traffic. Damage, defects, vandalism, and adverse weather conditions can all lead to a malfunctioning traffic signal.
Poor lighting: Street lights are necessary, so drivers see where they're going, especially at night. They're able to see if there are hazards in the road, read traffic signs, and notice when someone is trying to cross the street. Without adequate lighting, drivers are unable to detect situations ahead where they must proceed with caution.
Missing or damaged signs: Road signs are essential for motorists to know what to do when they reach an intersection, merge onto a highway, or enter a construction zone. Without them, it's impossible to anticipate what another driver is going to do. Common scenarios that could lead to a single-vehicle accident include:
Lack of signs at a sharp or blind curve
Inadequate warning signs in a construction area
A fallen sign from poor weather conditions
Tree or another object partially or completely blocking a sign
Illegible signs from damage or vandalism
Missing stop sign at an intersection
Defective parts: If a vehicle contains defective parts, it can malfunction and cause the driver to lose control. Manufacturers are responsible for ensuring their products meet the design specifications and aren't hazardous to consumers. If there's a risk of harm, they must provide warning labels. Common car parts that are often defective include:
Lights
Brake system
Engine
Tires
Steering system
Transmission
Poor road conditions: With thousands of vehicles traveling along roadways, issues can arise. Natural wear and tear and damage can occur that lead to a single-vehicle accident. If companies responsible for maintaining and repairing the roads fail to do so adequately, it could lead to severe injuries. Common examples of road defects include:
Blind curves
Faded line marking
Missing guardrails
Damaged, obstructed, or missing traffic signs and signals
Potholes
Inadequate lighting
Cracked or uneven pavement
Who is Liable After a Single-Vehicle Accident in Washington?
If you were the victim of a single-vehicle crash and determine another person or entity was to blame, you could file an insurance claim or lawsuit. Negligence is the failure of one party to provide another with a reasonable degree of care, leading to their injuries. Any situation where someone else didn't do what they should have to prevent you from harm may result in their being liable for your resulting expenses.
Following are some of the parties that may be liable in a single-vehicle accident:
Another driver or pedestrian may be at fault if their actions or inaction directly led to your accident. Whether they were texting behind the wheel or weaving in and out of traffic, you could file an insurance claim with their auto insurance company. According to Washington's fault system, a driver that causes a crash is automatically financially responsible for the victim's losses.
Manufacturing companies must ensure the safety of their products, especially car parts. There are specifications they must follow when making the parts, and they also have to perform safety tests to check for issues. They could be liable for your injuries if one of the following defects resulted in your accident:
Design defect: There's something in the original design that causes the product to be inherently unsafe.
Manufacturing defect: The product becomes damaged or defective in some way during the manufacturing process.
Failure to warn: The company does not provide adequate warning of the potential risks for consumers using their product.
Government entities perform maintenance and repairs on all roadways within municipalities, cities, and states. If they don't fix hazards promptly or fail to maintain roads for the safety of drivers, they could be held liable if an accident occurs.
Unfortunately, there are some limitations to filing lawsuits against the government in Washington. You must follow specific procedures and only seek compensation if an employee, officer, or volunteer exhibited tortious conduct. While tortious conduct is a broad category referring to a wide range of actions, one of the most common involves car accidents.
Third-parties, such as maintenance employees and construction workers, can create dangerous conditions for motorists. If their actions were the reason you got hurt, you could file a lawsuit against them or their employer. For example, if someone performs construction near a roadway and doesn't place warning signs, traffic cones, and other safety measures, you could hold them liable if you end up in an accident.
Can I Recover Damages After a Single Vehicle Accident in Washington?
Whether you decide to file an insurance claim or lawsuit, you can seek compensation for your damages. Damages are the total losses associated with an accident. There are two main types: economic and non-economic. Economic damages refer to actual expenses, while non-economic damages are physical and emotional suffering endured due to an injury.
The damages available after a single-vehicle accident may include:
Medical bills
Pain and suffering
Out of pocket costs
Car repair or replacement
Lost wages
Lost earning capacity
Emotional distress
Disability or disfigurement
Loss of consortium
Your auto accident attorney will review all the elements of your case to determine a fair monetary value for your damages. Often, it's difficult to calculate non-economic damages because something like emotional distress can be subjective. We'll ensure you receive the maximum compensation you deserve to cover all the damages you suffered due to your injuries.
Multi-Vehicle Accident Lawyers at Caffee Law Firm
While any auto accident can feel frightening, crashes involving numerous vehicles likely feel very traumatic, even without serious injuries.
Technically a collision involving two cars could be considered a multi-vehicle accident, but the term is typically used in reference to three or more vehicles. These are also known as chain-reaction or pile-up accidents.
Pileups often occur at high speeds and can cause catastrophic injuries or worse. Data from the National Highway Traffic Safety Administration (NHTSA) shows that in 2018 there were 191 deaths in Washington from accidents with three or more vehicles.
The number of participants complicates this type of collision. Injured parties can find themselves in multifaceted legal claims with several insurance companies. If you or a family member has been involved in a multi-vehicle accident, you could be entitled to compensation.
But to receive maximum compensation, you'll need a Seattle car accident attorney experienced in dealing with the complex nature of multi-vehicle accidents. Caffee Law has represented many clients involved in multi-vehicle collisions, and we have the knowledge to handle your case. Contact us today at (206) 312-0954 for a free, no-obligation consultation.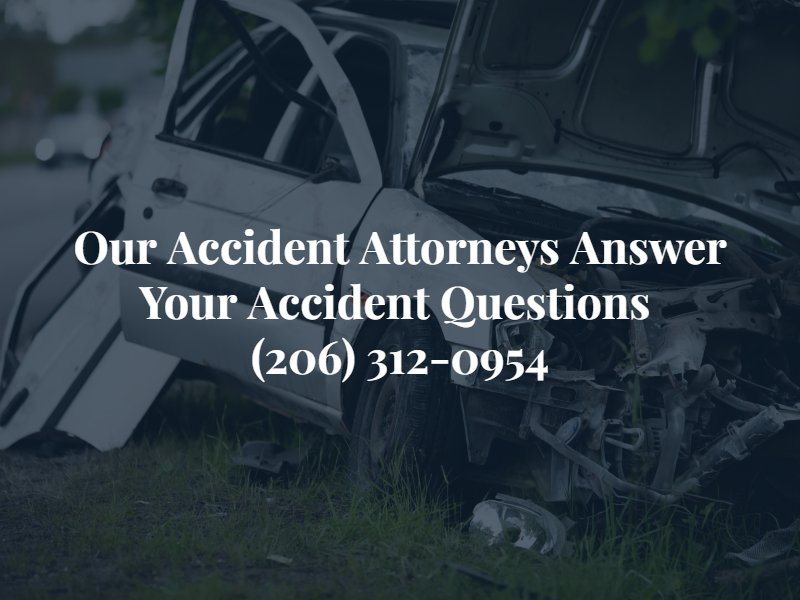 What are Common Causes of Multi-Vehicle Accidents?
Multi-vehicle collisions start with two vehicles striking each other. Subsequent crashes are caused because other drivers cannot maneuver their vehicles to avoid the accident. Various situations cause multi-vehicle accidents, but many of them happen in the following circumstances:
Left turns – Crossing over one or more opposing lanes of heavy traffic to make a left turn can be precarious, especially when drivers don't leave enough time for their vehicle to get past oncoming cars.
Intersections – When a motorist fails to yield the right-of-way at a traffic light or a two-way or four-way stop, they end up in another vehicle's path.
Striking from behind – If one car stops abruptly, the vehicles behind it are likely to strike it from behind. Rear-end collisions are prevalent and often involve several automobiles.
Crossing into another lane – Veering into an adjoining or oncoming lane of traffic can result in hitting another vehicle, and the commotion will cause yet another vehicle to crash.
The factors that contribute to multi-vehicle accidents tend to be negligent behavior or human error — although not always.
Some of the more common issues include:
Reckless driving – The category of reckless driving includes a broad array of potentially dangerous behavior, such as speeding, following too closely, ignoring caution signs, failing to yield, or careless passing and lane changing.
Distracted driving – Feeling fatigued or drowsy, attempting to focus on a phone or a conversation with a passenger, or reaching for items: these are a few of the behaviors that take drivers' attention away from operating their vehicle safely.
Driving under the influence – Being under the influence of drugs or alcohol affects a person's cognitive ability. Trying to drive while in this condition is destructive and dangerous.
Road conditions – The surface of a road and visibility for a driver can be greatly affected by inclement weather. Snow, ice, and heavy rain can cause vehicles to slip and slide, especially if driven at high speeds. Other factors, such as construction zones that restrict driving space, can create a multi-vehicle collision.
How to Determine Fault in a Multi-Vehicle Accident?
Identifying the responsible parties in a multi-vehicle accident presents unique challenges. The investigation entails piecing together the critical moments leading up to the crash from varying accounts of the people involved and other eyewitnesses. Sometimes the blame lies with more than one party.
Washington is a pure comparative fault state when it comes to personal injury claims. This means that a percentage of fault is assigned to each person involved in the accident, and each is responsible for that percentage of the other person's damages.
For example, if you incur $50,000 in damages and are 25 percent at fault, your award would be reduced by $12,500, and you would only receive $37,500. In a multi-vehicle crash, fault is often distributed among more than two parties. One party could be 30 percent at fault, and two others could be assigned 35 percent each.
Joint and Several Liability in Car Collisions
Washington law allows for an exception to the comparative fault rule called joint and several liability. It impacts how responsibility for a personal injury claim is shared. This exception applies to a claimant who is free of any fault in the accident and allows them to collect damages from any or all liable parties.
The claimant's benefit is that if the party who bears most of the liability does not have the means to pay what they owe, the other parties who have more financial assets are required to pay more than their share to ensure that the fault-free injured person is fully compensated.
For example, if a fault-free claimant has $50,000 in damages, then each liable party can be responsible for the full $50,000, even if they are only 10 percent at fault. If only one of the parties has to pay the claimant the full amount, they are entitled to receive contributions from the other liable parties, according to the proportion of fault they were assigned.
If none of the liable parties have the insurance coverage or financial resources to pay the fault-free claimant, no recovery is possible. However, there is often a good chance that at least one liable party will have the necessary assets in multi-vehicle collisions.
Frequently Asked Questions About Multi-Vehicle Accidents
These are some answers to common questions after someone is involved in a multi-vehicle accident. We would be happy to provide you with more detailed information during an initial consultation to gather all the details of your particular situation.
How Long Will My Multi-vehicle Accident Case Take?
This question is on every person's mind after they've sustained an injury from a car accident, but we can never give a specific answer. Each case has its own set of variables regarding the insurance policy's limitations, how quickly the insurance company processes the claim, how extensive your injuries are, and many other particulars. We cannot say how long a case will take unless we have all the details. Even then, we can only estimate.
What Is the Time Limit for Filing My Multi-vehicle Accident Claim?
Each state has laws called statutes of limitations that set a deadline for filing personal injury claims and lawsuits. For Washington accident victims, the statute of limitations is three years.
What are the Chances That My Case Will Go to Trial?
Most personal injury cases are settled without having to file a lawsuit. A settlement is also often reached outside of trial. However, if we think it's in your best interest to use the court system to pursue the compensation you deserve, we will represent you and make sure you get the compensation you need. We will also make sure you go to trial with all the evidence you need to support your claim. That means we will gather witness statements, driver records, police reports, and much more. We will ensure that you have all the proof you need to support maximum compensation for your injuries.
How Much Does Legal Representation for a Multi-vehicle Accident Claim Cost?
You don't have to worry about paying us out of your pocket. We do not charge upfront fees or for our expenses unless we successfully obtain a favorable outcome for you. What you owe the firm is deducted from the award you receive at the end of the case.
Contact Caffee Law Today
If you or a loved one were injured in an auto accident, you have the right to demand compensation. The Seattle T-bone accident lawyers at Caffee Law understand the importance of this financial support, and we're prepared to fight to protect you and your family.
We know that you're coming to our firm during a difficult time in your life, so we'll make it as easy as possible. Caffee Law is ready to represent you at no cost. We work on contingency, which means we don't get paid until you do.
You only have a limited time to file your claim after a T-bone accident, so you need to take action as soon as possible. Caffee Law offers a 100% free and confidential initial consultation on your case, so you can understand your legal options. Set up your consultation by calling Caffee Law at (206) 312-0954 right now.