Caffee Law understands the complexities of scooter accident claims, and we know how to hold negligent parties accountable. Call (206) 312-0954 to discuss the specifics of your case with our Seattle Scooter Accident lawyers for free consultation.
Dockless scooters are popping up all over the country, and many people enjoy riding them. Unfortunately, scooters riders are often seriously injured when accidents happen for numerous reasons — equipment defects, lack of maintenance, motor vehicle negligence, dangerous road conditions, and a host of other reasons. With very little to protect themselves, scooter drivers are often severely injured and left wondering how they are going to recover and pay their bills.
Did you suffer severe injuries or was your loved one killed in a scooter accident in the Greater Seattle area? You are very likely to be accused of being at fault for your crash, and will want to make sure that you have somebody on your side.
Our Seattle personal injury attorneys can act as an advocate for injured victims. We fight to help victims recover every dollar of compensation that you need and deserve. Contact our attorneys  online to set up a free consultation.
Seattle, WA Scooter Accident Attorneys
Why Choose Caffee Law?
Jeffrey R. Caffee has been admitted to state courts in Washington since 2009 and has been honored as one of the Top 100 Trial Lawyers by the National Trial Lawyers every year since 2013. He is a member of the King County Bar Association, the Tacoma-Pierce County Bar Association, and the Washington State Bar Association.
Mr. Caffee was honored by The International Academy of Trial Lawyers in 2009 with an Award for Advocacy for distinguished achievement in the art and science of advocacy. He received his Bachelor of Science from Saint Leo University before earning his Juris Doctor at the University of Notre Dame Law School.
Caffee Law represents people on a contingency fee basis, which means that you do not pay unless you recover a monetary award. Our firm will work toward a settlement that provides for your every need, and we can also file a lawsuit when an insurance company refuses to provide appropriate damages.
Do I Need a Scooter Accident Lawyer?
Because most scooter accident victims are assumed to have been at fault for their accidents, victims will likely need to fight against unfair presumptions about your conduct. Insurance companies look for ways to claim that your negligence caused the crash. When the evidence at the scene is not enough to prove this alone, one way that insurers accomplish this goal is by getting statements from victims.
After you have reported your accident to an insurance company, an agent or claims adjuster will likely contact you and ask you to provide a recorded statement. You should always refuse this offer, as it usually an attempt to get you unknowingly to admit to some negligence in your accident. Let an attorney speak to an insurance company for you.
Insurance companies may also offer you a lump-sum settlement and then aggressively pressure you into accepting it — often before you have even had a chance to contact a lawyer. You have the right to refuse to your offer, and you should know that an attorney will probably be able to help you recover much more than what you could on your own.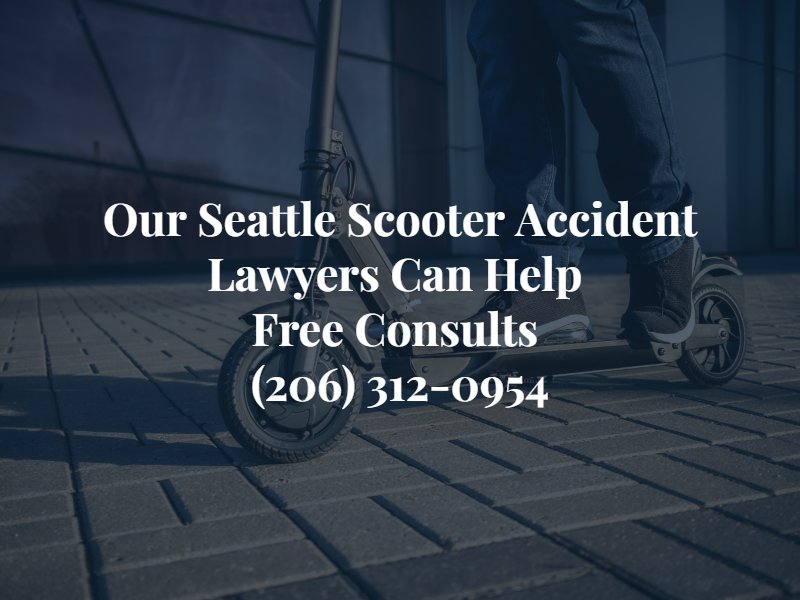 What Are Scooter Safety Requirements In Seattle?
There are rules and safety measures that individuals on scooters in Seattle need to follow to help minimize hazards to their own, as well as safety for pedestrians and motorists. 
Helmets –

Helmets are required to

operate an electric scooter

in Seattle. In the event of an accident, a helmet can help minimize traumatic brain injuries. 
Utilize Bike Lanes & Trails –

Whenever possible and safe to do so, utilize bike lanes and trails 

Refrain From Riding on Sidewalk –

Sidewalks are for pedestrians. Do not use a scooter on sidewalks.

Refrain from Riding in Bus Lanes –

Bus lanes are for buses only. It is illegal to use a bus lane to drive a scooter 

Refrain from Riding Over 25 MPH –

Most scooters have a speed limit restrictor that sets a maximum speed. Do not exceed 25 miles per hour on a shared scooter.

Abide No-Ride Zones –

The Seattle Department of Transportation has outlined areas that are not suitable for scooters. 

Park In Designated Areas –

Failure to park in designated scooter areas may result in a $20 fine added to the scooter share charge.
What Types of Scooter Accident Cases Do We Handle?
No two scooter accidents are the same, but many have similarities. In general, the four most common kinds of scooter accidents include but are not limited to:
Motor Vehicle Collisions — Negligent automobile drivers may cause collisions on city streets or other areas.
Defective Scooters — Improperly maintained scooters could make scooter rental companies liable, while defective scooter parts could make manufacturers liable.
Collisions with Pedestrians — A scooter rider can easily collide with a pedestrian, and disputes about liability are frequently contested in these cases.
Dangerous Road Conditions — Potholes, defective roadways, or other issues that were correctable by the governmental entity charged with the maintenance of the roadway could make that group liable.
Injuries that people can suffer in scooter accidents include but are not limited to:
Nerve damage
Paralysis
Internal organ injuries
Road rash
Muscle strains
Neck injuries
Fractures
Sprains
Spinal cord injuries
When scooter accident injuries are fatal, the family members of the deceased can file a wrongful death action against the negligent party.
Seattle Scooter Accidents Statistics
On September 28, 2018, the Spokesman-Review reported that a hospital in Salt Lake City had seen a 161 percent increase in the number of visits involving scooters. The University of Utah Health's emergency room treated eight patients injured by scooters between June and September 2017, but they treated 21 patients during the same period in 2018, only three months after dockless e-scooters appeared on city streets.
The United States Consumer Product Safety Commission reported in August 2001 that there were 2,250 emergency room-treated injuries associated with motorized scooters in the first seven months of 2001. The estimated 4,390 hospital emergency room-treated injuries involving scooters in 2000 were a more than 200 percent increase from the 1,330 injuries in 2000.
The CPSC reported in April 2007 that 10,015 emergency room-treated injuries for the period July 1, 2003, through June 30, 2004, were related to powered scooters. The vehicles contributed directly to incidents in roughly 20 percent of the cases, and issues included handlebars coming loose or detached, front wheels wobbling, and brakes failing to engage.
Contact Us
If you sustained injuries resulting from a scooter accident in Seattle or Washington State, do not wait to retain legal counsel. Our Seattle scooter accident lawyer are extremely beneficial and help victims recover the compensation needed to help offset the damages suffered. Contact our firm for a free consultation to discuss the specifics of your case.