Car accidents can be devastating, often leaving victims with serious injuries and emotional trauma that will impact their lives for years to come. If you have been injured in a car accident in Federal Way, Washington, it is important to know your rights as an injury victim and understand the steps you should take immediately. As a qualified personal injury law firm with decades of combined experience, Caffee Accident & Injury Lawyers can assist you.
Contact the Federal way car accident lawyers at our firm today to discuss your options at (206) 312-0954 or fill out our online contact form.
Why Choose Our Car Accident Lawyers?
Our car accident attorneys emphasize communication.

You will never be left wondering about the status of your case. You will talk to your lawyer directly, either in person or virtually.

We are a full-service personal injury law firm.

This means we have the power to handle your car accident case in Federal Way from inception to litigation (trial).

Attorney Jeffrey Caffee and his team will be available to help you at all times.

You will receive unparalleled customer service from a team of attorneys who care about your future.

Our car accident lawyers have decades of experience.

We've handled hundreds of car accident cases throughout Washington. We know what each case and client needs to succeed.
How Can a Car Accident Attorney Help?
While there is no law in Washington requiring you to hire a car accident attorney to represent you during this type of case, doing so can have major benefits. An attorney can guide you through the steps that it takes to recover fair financial compensation for your medical bills, property damage and other losses. These include:
Investigating the car crash

Preserving and gathering evidence of fault

Proving the other driver's negligence

Filing your insurance claim

Hiring qualified experts to testify 

Negotiating a settlement with an insurance company 

Going to trial, if necessary
An experienced car accident lawyer will know the best way to handle your case for optimal results. Our attorneys will build a personalized legal strategy based on your unique needs and goals. You can leave the legal side of your case to our Federal Way car accident lawyers while you focus on healing and moving forward.
What Are Common Car Accident Injuries?
There are a number of injuries that can occur in a car accident. Some of the most common ones include the following:
Scarring and disfigurement
Neck and back injuries
Spinal cord injuries
Whiplash
Lacerations
Broken bones
Burns
Internal injuries
Limb amputations
Some injuries suffered during a car accident are minor, but many are severe and can lead to lifelong problems. If you were injured in a car accident, it's always a good idea to contact a lawyer to see if you might have a viable civil claim.
What to Do After a Car Accident
If you are involved in a car accident, there are certain steps you should take to protect yourself and your rights, including the following:
Make sure you and any passengers are safe. If anyone is injured, call 911 immediately. DO NOT move anyone who is injured. Calling 911 is also helpful because a police officer will arrive on the scene and create an accident report. They will take notes about what they observe, which may be helpful for your case.
Collect evidence at the scene of the accident. This includes taking pictures of the cars involved, writing down the license plate numbers of all vehicles involved, and getting the contact information of any witnesses. Your Federal way car accident lawyer can help you collect other types of evidence that will be important to your case if you file a claim, but right after the accident and before you hire a lawyer, it's important to take note of as much as possible so you can provide that information to your lawyer.
Speak with a Federal Way car accident attorney as soon as possible. They will be able to help you protect your rights and assist you in receiving the compensation you deserve for your injuries.

Should I Speak To An Insurance Company Without An Attorney?
When you are in an accident, it is important to remember not to speak with anyone who represents the insurance company of the person you believe is at fault. This includes law enforcement officers or any other individual claiming to be gathering evidence for their investigation. Insurance companies will almost always try to offer you a lower amount of money than you really deserve. Once you have legal representation, it's much less likely that you're going to be taken advantage of by any insurance companies.
Negligence & Auto Accidents
To be successful in a personal injury car accident case, you must be able to show that the at-fault party was negligent. Negligence occurs when an individual fails to exercise the care toward others as they should. All drivers on public roads agree to exercise caution by simply getting behind the wheel of a car. If the party that caused the accident was texting, driving too fast, drinking and driving, or otherwise acting negligent, this can be enough to help you win your case.
How Much Is My Car Accident Claim Worth?
At Caffee Accident & Injury Lawyers, we know that for many clients, no dollar amount will be sufficient to pay for significant losses, such as catastrophic injuries or the tragic loss of a loved one's life. However, we've also seen firsthand how much a fair and full financial recovery can help someone who is going through the difficult aftermath of a car accident. Getting the money that you deserve can help you pay your bills and enjoy less financial stress as you plan for the future.
It is important to understand how much your car accident claim is worth before negotiating with an insurance company. That way, you won't accept an inadequate settlement offer. The most accurate case estimate you can find will come from a Federal Way car accident attorney after an in-depth evaluation of your specific case. Many different factors affect case value, including injury severity, the age of the victim, his or her income before the car accident, and the insurance coverage available.
No average car accident settlement amount that you find online will be accurate, as each case is unique and results can vary considerably from person to person. Some crash victims recover $10,000 or less for their medical bills and property repairs, while others collect millions of dollars for catastrophic injuries or wrongful deaths. Discuss your case with one of our Federal Way personal injury attorneys to find out how much it could be worth. Once we learn the value of your claim, we can do what it takes to demand maximum financial compensation from an insurer on your behalf.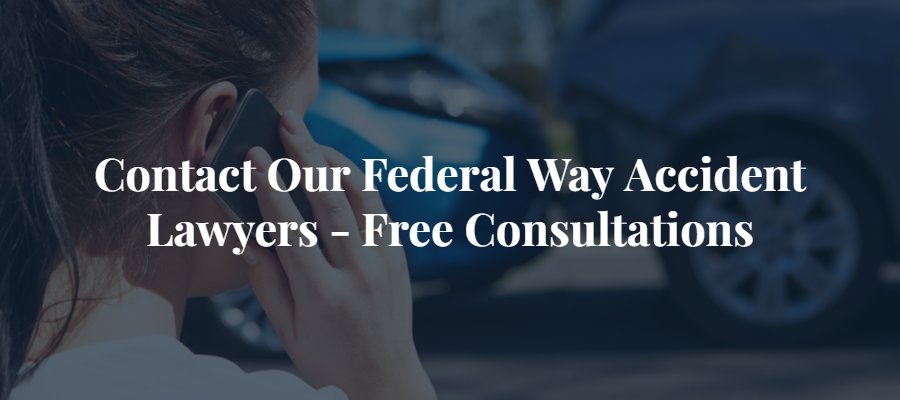 What Damages Can Be Recovered After a Car Accident in Washington?
A successful car accident claim can pay you damages, or financial compensation, for many different losses and expenses connected to your crash and the process of recovering. Washington law allows for the recovery of both economic (tangible) and noneconomic (intangible) losses. All drivers in Washington must carry minimum amounts of car insurance to pay for these losses in the event of a collision. By filing a car insurance claim or personal injury lawsuit, you and your family could recover the following types of damages, and more:
Medical bills. The full past and future value of all necessary medical care, including emergency room visits, doctor's appointments, traveling to see specialists, tests and x-rays, medical treatments, medications, surgeries, physical therapy, and rehabilitation.
Property damage repairs. The amount of money that is required to fully repair your damaged vehicle or the total pre-crash value of the car if it is deemed a total loss.
Lost wages. The income and other employment benefits that you lost because you had to take time away from work to recover. This can also encompass lost future earning capacity if you suffered a temporary or permanent disability.
Pain and suffering. A monetary value given for your intangible losses connected to the car accident, such as physical pain, emotional distress, mental anguish, inconvenience, post-traumatic stress disorder and diminished quality of life.
Death benefits. If a loved one passed away in a fatal car accident in Federal Way, your family may be eligible for wrongful death benefits. These can include your funeral and burial expenses, medical bills leading up to the time of death, lost income and inheritance, and loss of consortium.
Exemplary damages. An additional amount awarded in some cases to punish a defendant who is found guilty of gross negligence, recklessness or malicious intent to harm.
Submitting a full list of your collectable losses in the form of a demand letter to an insurance company is an important step to achieve a fair settlement offer. Work with an attorney if you need assistance identifying all of your damages. Our lawyers have years of experience helping clients fight for the financial recoveries that they need to move forward. We will be there for you in the pursuit of fair and full compensation.
What Is the Statute of Limitations to File an Auto Accident Claim?
An important law to know if you wish to file a car accident claim in Washington is the statute of limitations. This law, located in the Revised Code of Washington Section 4.16.080, places a strict filing deadline on the ability to bring a cause of action. If you miss your deadline, you will most likely give up the right to recover financial compensation. This makes it critical to contact a car accident lawyer in Federal Way as soon as possible after your collision.
This statute of limitations is three years from the date of the car accident, in most cases. This is also the time limit for many other personal injury claims. If you do not file your injury claim within three years of your car crash, you will most likely face case dismissal. Although exceptions to the statute of limitations are rare, they do exist in special circumstances. One example is the discovery rule. 
The discovery rule states that the statute of limitations will be tolled, or delayed, if the victim does not discover his or her injuries right away. In this scenario, such as with a hidden injury, the clock will be delayed until the date that the victim discovered or should have discovered through reasonable prudence that he or she was injured in the car accident. Another exception is if the car accident victim is a minor. In this case, the courts in Washington grant the minor three years from the date of his or her 18th birthday to file.
You may also have slightly more time to file if you wish to bring a wrongful death lawsuit in Washington after losing a loved one in a fatal car accident. In this type of case, the clock doesn't start ticking until the date of the decedent's passing. If this is days or weeks after the car accident took place, this could give you the same amount of extra time to file a wrongful death claim in Federal Way.
Contact Our Federal Way Car Accident Attorneys | Free Consultations
If you were in a car accident in Federal Way, Washington and would like to speak to a lawyer about filing a civil claim, you've come to the right place. At Caffee Accident & Injury Lawyers, we recover millions of dollars every year for our clients. Every lawyer we have on staff is experienced in negotiating settlements and in litigating cases, so you'll never have a bad settlement offer pushed on you by our lawyers just to get a quick resolution to your case. Contact us today to discuss your options by calling us at (206) 312-0954 or filling out our online contact form.