A car accident can change your life in an instant. One minute your life is moving along usually, and the next, you're wondering if things will ever be the same. When you've been injured in an accident, the physical, emotional, and financial toll can be overwhelming. The assistance of a competent car accident lawyer can help. Contact the Seattle car accident lawyers from Caffee Law to schedule a free consultation.
Car accidents frequently occur in cities all over the Seattle area, and some collisions may result in minor damage, while others cause far more severe injuries and complications. Often, car accident victims are confused about what steps they should take after being involved in any kind of motor vehicle accident. A lawyer can help you understand your rights and legal options and fight for the justice you deserve.
If you suffered severe injuries or your loved one was killed in a car accident in the Seattle area, do not think that you have to handle your injury claim alone. The Seattle car accident lawyers at Caffee Law can make sure the negligent driver involved in motor vehicle accidents is held fully accountable.
Jeffrey R. Caffee has been honored as one of the Top 100 Trial Lawyers by the National Trial Lawyers every year since 2013. He or one of our Seattle auto accident lawyers can provide a complete evaluation of your case when you call (206) 312-0954 or contact us online to schedule a free consultation.
Seattle Car Accident Attorney Resources:
Why Choose Caffee Law to Handle My Case?
Jeffrey R. Caffee was honored by The International Academy of Trial Lawyers in 2009 with an Award for Advocacy for distinguished achievement in the art and science of advocacy. He is a member of the King County Bar Association, the Tacoma-Pierce County Bar Association, and the Washington State Bar Association.
Mr. Caffee received his Bachelor of Science from Saint Leo University before earning his Juris Doctor at the University of Notre Dame Law School. He has been admitted to state courts in Washington since 2009.
Caffee Law also provides Seattle car accident lawyers on a contingency fee basis. This means that you will not have to pay us anything unless you receive a financial award.
Our firm will negotiate for a settlement that covers all of your past, present, and future needs. When a driver's insurance company does not provide an adequate settlement, we will file a lawsuit. As a trusted Seattle car accident lawyer we represent you in your personal injury law case.
Do I Need a Seattle Car Accident Lawyer?
If a car accident clearly appears to be the fault of another driver, you may be tempted to believe that you have an easy case that does not require the skills of a car accident attorney. But payments in these cases are not automatic; insurance companies will always seek to find any way to minimize their losses, so victims need to have someone looking out for their interests.
One of the ways insurers accomplish this is simply by asking you to provide a recorded statement, during which an agent will ask questions that are specifically designed to get you to unknowingly admit to negligence. In other cases, an insurance company may offer a person a lump-sum settlement. It is likely that whatever you are being offered is likely a lowball offer that will not cover your future expenses.
You will want a lawyer simply to deal with the insurance companies on your behalf. A Seattle, WA auto accident attorney will be able to conduct an independent investigation to determine the cause of your accident, collect evidence, and identify all liable parties before seeking a fair and full settlement.
If you suffer injuries in a car accident, you should not wait to take legal action against the at-fault driver. It's important that you try to take a few crucial steps to protect your rights and ensure you recover the maximum financial compensation available.
Call 911
State law requires that you report a car accident to the Washington Department of Transportation if there's an injury, fatality, or more than $700 in property damage. If an officer shows up at the scene to investigate, they will write and submit the report for you.
Gather evidence
First, be sure it is safe to get out of your car and walk around. If necessary, move your vehicle to the side of the road so it's not in the way of traffic. Look for anything relevant in or near the crash site that could help prove what happened. Take photos of the scene, debris, broken car parts, and vehicle damage.
Obtain insurance
Ask all the other drivers involved for their names, phone numbers, license numbers, and auto insurance information. If one of them caused the crash, you might be able to file a claim with their insurance company.
Talk to witnesses
Innocent bystanders might have seen everything that happened. Write down their names and contact information. They could provide a witness statement and confirm your version of the car accident.
Seek medical attention
See a doctor about your injuries and follow their orders for additional treatment. It's essential that you continue attending appointments until all of your medical providers release you from their care. Any gaps in treatment could impact the outcome of your case.
Hire a car accident attorney
Contact Caffee Law to have one of our Seattle car accident attorneys represent you.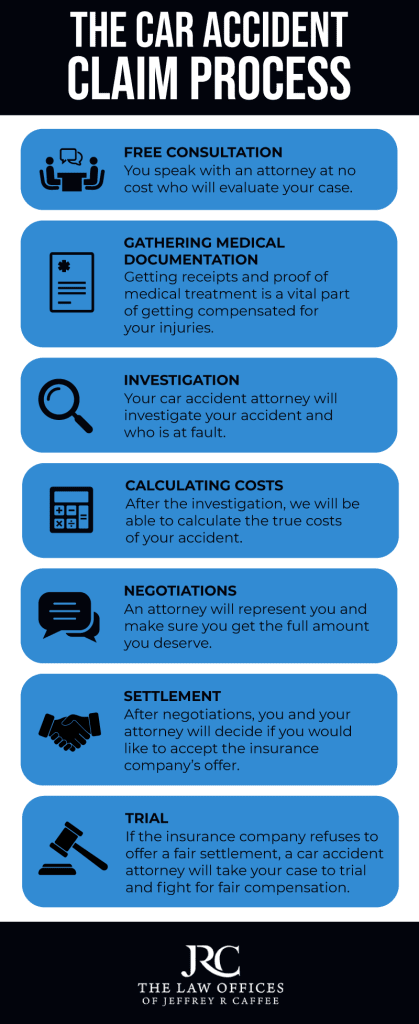 What Does a Car Accident Investigation Look Like?
When you hire Caffee Law, we will take care of each step of your case from start to finish. One of the most crucial parts of a legal case is the investigation. We will have to locate evidence that sufficiently proves another person was liable for the accident and your injuries resulting from their actions.
Statements from eyewitnesses to the car accident
Since every car accident claim is unique, our Seattle car accident lawyers will initiate a thorough investigation to determine what evidence proves fault. The goal in any car accident claim is to provide clear and convincing evidence that another person's negligence caused your injuries.
Traffic crash report
A car accident report is taken by law enforcement officers at the scene of car accidents. This report provides a description of the car accident, including where it occurred and any details about weather conditions or visibility at the time.
In many car accident claims, our car accident investigator may conduct several traffic crash reports to determine if there is enough evidence to prove fault for the car accident.
Video surveillance
Video surveillance is a great source of car accident evidence. These recordings can come from businesses, malls, or homes around the car accident scene.
If a car accident happens near or at a business, our car accident lawyer will obtain video surveillance footage to see what exactly occurred before and after the car accident. If any of these videos capture your car accident, they will provide evidence about what happened during the car accident.
If a car accident occurred on a road or intersection, our car accident investigator would determine if there is any video footage of the car accident to show what transpired before and after your car crash.
Accident scene evidence and photos
Photos and evidence from the car accident scene can be a valuable source of car accident-proof. If our Seattle car accident attorney obtains photos of your car crash before it is cleaned up, they will capture any car damage or car part damage that occurred during the car accident.
In some car accidents, debris from another car may have been left at the car accident scene. Our car accident investigator will collect this car crash evidence to prove fault for your accident claim.
Cell phone records and car accident data
If your car accident data can prove the other driver participated in distracted driving at the time of the car accident, we may be able to hold them accountable for their actions. Our car accident attorney will access cell phone records for this reason and to determine if there were any calls, texts, or apps running when the car accident occurred that could have created an environment for distracted driving. These records can also show car accident data from car GPS systems in use during the car collision.
Medical records
Medical car accident records are one of the most common car accident evidence sources. These car crash documents show our car accident, car crash attorney that you were injured in the car collision and visited a doctor for treatment.
Car repair estimates
Our car accident lawyer will obtain car repair estimates to determine how much your accident claim is worth. Car accident claims are the most common type of car accident lawsuit, but they are not always easy to prove. It is not enough for you to have been injured in a car collision; our car accident attorney must also find evidence that another car driver or car part manufacturer is legally liable for your car accident.
If necessary, our accident lawyer will visit the location of the car accident and attempt to recreate what happened. Although law enforcement investigates an accident scene, its findings are often disputed by the other driver's insurance company. We might also disagree with who they believe was at fault for the crash. If we can offer a new perspective, we might convince an insurance claimant of our theory.
What Are Common Types of Car Accidents?
Caffee Law is a premier car accident attorney in Seattle and has successfully represented many car accident victims, and though every car crash is different, many share common causes. Some of the most common factors we see regularly include but are not limited to:
Fortunate individuals aren't hurt; others will suffer significant injuries that often require lengthy initial hospitalizations and several rounds of follow-up care.
THE 5 MOST DANGEROUS CAR ACCIDENTS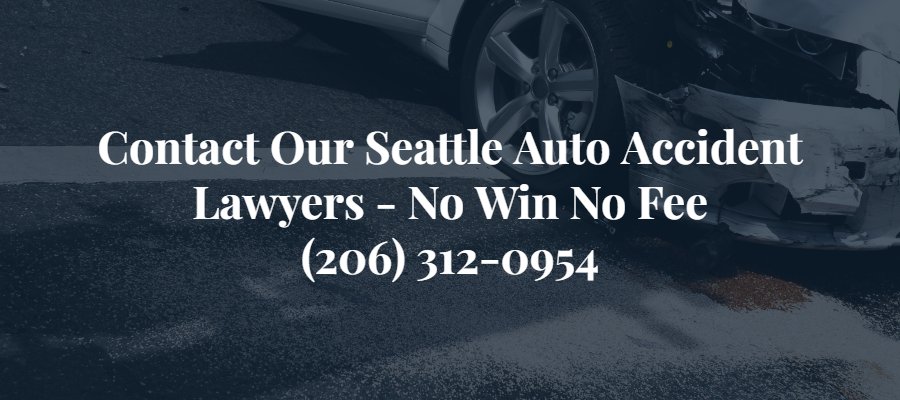 What Are Common Injuries Suffered in Car Accidents?
More severe injuries can also impact a person's ability to work. Some of the most common kinds of car accident injuries that Caffee Law handles include but are not limited to, neck injuries, burn injuries, lacerations, whiplash, organ damage, soft tissue injuries, traumatic brain injuries, nerve damage, broken bones and fractures, spinal cord injuries and paralysis. In extreme circumstances the injuries suffered can be fatal.
Broken bones and fractures
Some fractures are immediately noticeable because the bone protrudes through the skin. But if you have multiple injuries, or if you sustained a closed fracture, it can be difficult to know the true extent of your injuries.
Symptoms of fractures and broken bones include:
Pain and throbbing
Swelling
Bruising
Sudden deformity of the affected area
Limited range of motion
Decreased ability to use your affected limb
There are also different types of fractures, including:
Closed Fracture: Also known as a simple fracture, this occurs when the broken bone does not puncture through the skin.
Open Fracture: Also known as a compound fracture, this occurs when the bone breaks and pierces through the skin. Secondary injuries with open fractures include infection and heavy bleeding.
Complicated Fracture: This involves injury to the structures surrounding a fracture, including veins, nerves, and arteries.
Comminuted Fracture: This occurs when the bone is shattered into fragments, and often involves a much longer healing time.
Treatment Costs for Fractures and Broken Bones
After a car accident, you may be facing a long road to recovery. This is especially true for those who've suffered serious fractures and broken bones. Costs vary, but these are the typical treatment options for fractures and broken bones:
Splints to immobilize the bone and encourage healing
Braces to support the fractured bone
Cast to support and immobilize the fractured bone
Corrective surgery to hold fragmented pieces of bone together and promote healing
You might require additional treatment beyond correcting the fracture itself. Those suffering from broken bones often need:
Rehabilitation and physical therapy
Pain management
Assistive medical equipment, such as a wheelchair, walker, or crutches
Recovering Compensation for Broken Bones After a Car Accident
After a car accident, many people attempt to recover compensation on their own by negotiating with the other driver's insurance company. If you choose this route, the amount you recover will depend on whether the driver is insured, the limits of their policy, the extent of your injuries, and more.
The trouble with this approach is that you might not secure a fair settlement, especially since most car insurance policies don't cover pain and suffering. After a car accident, you deserve to be fully compensated for the harm you've endured, not just for your financial losses.
This is where an attorney can help. An experienced car accident attorney can protect your legal rights, fight on your behalf, and demand the highest compensation available. If you choose to file a personal injury lawsuit for your car accident, you may recover compensation for economic and non-economic damages, including:
Out-of-pocket costs for ambulance rides and hospital stays
Costs for corrective surgery, splints, and any other relevant treatment
Costs for rehabilitation and physical therapy
Costs for wheelchairs, crutches, walkers, and other equipment to assist your mobility
Lost wages, if you had to take time off work
Pain and suffering
Mental anguish
To learn more about your options for compensation, contact us at (206) 312-0954. Our Seattle car accident attorney is ready to speak with you at a free consultation.
Paralysis
Paralysis refers to a person's inability to move specific parts of their body. This happens when damage to the spinal cord interferes with the brain's ability to transmit signals to the area below the injury site. Paralysis causes reduction of or loss of sensation and movement. It can also lead to breathing problems and a decrease in blood flow.
The violent impact during a collision between two vehicles places extreme forces on the body. The violent back and forth or side-to-side motion can cause immediate damage to the spinal cord. If the damage is permanent, the victim might never be able to use their arms or legs again.
Paralysis occurs when a person loses control of their muscles in an area of the body. Multiple factors could cause this type of injury, including car accidents.
Doctors classify different types of paralysis by the location of the injury and the severity of the damage.
Location
Localized paralysis only affects one area of the body. Generalized paralysis can affect multiple body parts. The various types of generalized paralysis include:
Monoplegia – Only one leg or arm becomes paralyzed
Hemiplegia – Paralysis only affects one arm and one leg on the same side of the body
Paraplegia – Both legs become paralyzed
Quadriplegia – This affects both legs and both arms
Severity
The severity of the paralysis falls under two main categories:
Complete – Complete paralysis means the brain can't transmit signals to the body part below the site of the injury due to the extensive damage to the spinal cord.
Incomplete – Incomplete paralysis reduces the brain's ability to send signals to the area below the injury site, meaning there might be only a partial loss of movement and sensation in a limb.
What Are Complications of Paralysis?
Paralysis doesn't only limit or eliminate the ability to move muscles and feel sensations in the body. It can also affect bodily functions. Common complications of paralysis depend on the type of paralysis suffered and can include:
Blood clots
Sexual dysfunction
Trouble breathing
Sepsis
Low blood pressure or high blood pressure
Loss of bladder and bowel control
Difficulty speaking or swallowing
Depression and anxiety
Heart problems
Bedsores
It's critical to seek immediate emergency care after a car accident. A doctor can recommend a treatment plan so you can try to regain some movement in your arms or legs. If you don't follow your physician's orders, complications could arise, leading to additional medical issues.
How to Treat Paralysis?
There isn't a cure for paralysis, but various types of treatment could help patients regain partial muscle control and physical sensation. The treatment plan your medical provider recommends will depend on the extent of the injury and which bodily functions it affects but could include:
Prescription drugs
Physical therapy
Nerve transfer surgery
Mobility devices
Occupational therapy
In some cases, surgery might be necessary. If the accident caused one or multiple vertebrae to fracture, the surgeon would have to remove pieces to prevent them from puncturing an organ nearby. Realigning the spine with screws and plates could stabilize it, so it heals in the correct position.
What Damages Can Victims Recover For Paralysis After a Car Accident?
Washington is a fault state. That means the at-fault motorist could become financially responsible for your injury and losses. State law requires auto insurance with minimum limits of liability for bodily injury and property damage. If you file an insurance claim, the settlement you receive could cover some or all of the losses you suffered, such as:
Pain and suffering
Emotional distress
Loss of enjoyment of life
Medical bills
Out-of-pocket expenses
Property damage
Lost wages
Lost earning capacity
Paralysis often results in expensive medical bills and additional costs. If the negligent driver's liability limits don't adequately compensate for your losses, you might be able to file a claim with your auto insurance carrier.
Uninsured/underinsured motorist (UM) coverage isn't a legal requirement for drivers in Washington. It can compensate accident victims if the motorist responsible for the crash doesn't have liability insurance or high enough limits. If your policy includes UM coverage, you could file a claim to cover your compensatory losses, such as medical bills, property damage, and lost wages.
Whiplash
Whiplash is one of the most common injuries suffered by car accident victims, but its symptoms are often ignored. When left untreated, whiplash can be disruptive to daily life and cause years of pain or discomfort.
If you were recently in a car accident and sustained whiplash injuries, it's critical to speak with an experienced attorney. An attorney can protect your legal rights, and demand compensation from negligent parties who caused your injuries.
What is Whiplash? 
Whiplash is a term that refers to soft tissue damage to the neck. Specifically, whiplash injuries may include:
Hyperextension injuries
Hyperflexion injuries
Myofascial injuries
Neck strain
Cervical sprain
Whiplash is caused by sudden back-and-forth motions, which often occur during vehicle collisions. For example, if your car was rear-ended, the impact would cause your body to jolt forward. Meanwhile, your head would stay in place for a moment and then snap forward in a whip-like motion. This extreme flexion and extension of the neck cause muscle strain and torn ligaments.
What Are Whiplash Symptoms?
After a car accident, the symptoms of whiplash may appear gradually. This can make it difficult to know whether you've actually sustained any injuries. Some people involved in low-speed collisions assume they are injury-free, but whiplash can occur even at low speeds.
Early signs and symptoms of whiplash include:
Neck pain
Neck stiffness
Decreased ability to move the neck
Headaches, typically starting at the base of the skull
Pain or tenderness in the arms, shoulders, and upper back
Dizziness and blurred vision
Tingling or "pins-and-needles" sensations in the arms
Trouble sleeping
Fatigue
Irritability and anxiety
Tinnitus (ringing in the ears)
Keep an eye out for the above symptoms if you were recently involved in a car collision, even if it was a low-speed accident. If you believe you've sustained whiplash injuries, you should seek immediate medical treatment and then contact a car accident attorney.
Nerve pain and damage can result from the trauma or compression that occurs during the impact of a car accident. Nerves are crucial to the proper function of your body, so any harm done to them should always be taken seriously and treated by appropriate medical specialists to ensure maximum recovery.
What Is Nerve Damage?
Nerves are tissues that connect our organs to the nervous system and conduct nerve impulses. The nervous system is involved in every function of the body, such as sensing hot and cold, controlling muscles, and regulating breathing. Nerves are divided into three categories:
Autonomic nerves control the involuntary or partially voluntary activities of your body, including blood pressure, digestion, heart rate, and temperature regulation.
Motor nerves control movements and actions. They pass signals from your brain and spinal cord to your muscles.
Sensory nerves relay information from your skin and muscles back to your spinal cord and brain. This is how you feel pain and other sensations.
When nerves are healthy, your brain receives the information it needs for pain awareness, the proper function of internal organs, and muscle movement. When nerves are impaired, the brain may not receive all the information it needs, and you can experience pain, or your muscles may not move properly.
How Does Nerve Damage Happen in a Car Accident?
The force of sudden movement or impact to the body during a car accident can compress nerves in the back or spinal cord and interfere with how they transmit signals. The following conditions are examples of how nerve damage occurs.
Lacerations can sever nerve tissue.
Pinched Nerve: A bone spur or ruptured disc can pinch the nerves that run down the arm or spine or arm.
Broken or Dislocated Bones: A bone that gets moved out of place can compress or damage the nerves located nearby.
Whiplash: When your head and neck are jolted back and forth, extra pressure is placed on nerves in your spine or neck.
Internal Organ damage
Damage to internal organs is a serious medical condition that must be treated immediately. You will also need ongoing care to avoid severe complications such as internal bleeding, organ failure, and even death.
What Organs Are Commonly Injured After Car Accidents?
Any substantial injury to the abdominal area could result in some type of organ damage. Organs located in the abdominal area are especially vulnerable to trauma because the abdomen is a relatively unprotected area of the body. The abdomen depends only on soft tissue for protection and has no bony structural defense. Many of the vital organ systems are housed in the abdominal area and are therefore susceptible to many types of injuries during a car accident. These three organs are the most commonly damaged in car accidents:
Liver – The liver is the body's largest internal organ, and its purpose is to work with the gallbladder, pancreas, and intestines to absorb, digest, and process food. The liver filters blood coming from the digestive tract and then passes it on to the rest of the body. This filtering includes detoxifying chemicals and metabolizing drugs, and the liver secretes the toxins that go to the intestines. Another function of the liver is to make proteins used in blood clotting and other vital bodily functions.
Liver injuries can be minor and easily treated, but any damage to the liver can be very serious because of its essential functions within the body and its potential to hemorrhage. Symptoms of liver damage include:
Pain in the upper right region of the abdomen
Distended abdomen
Rapid heart rate
Low blood pressure
Nausea
Blood in vomit, feces, or urine
Kidneys – There are two kidneys in the human body. Each is about the size of a fist, and they are located just below the rib cage on either side of the spine. Kidneys serve as filters for blood to remove waste and excess fluid. They also remove acid to maintain a healthy balance of water, salts, and minerals in the blood. Nerves, muscles, and other tissues may not work properly if this balance is not maintained. Kidneys also make hormones that serve in controlling blood pressure, making red blood cells, and keeping bones strong.
When the force of a car accident delivers a blow to a person's lower back, a kidney can be bruised, torn, or rupture. Kidney damage symptoms include:
Blood in urine
Abdominal pain or tenderness
Back pain
Nausea
Vomiting
Spleen – The spleen is located in the upper far left of the abdomen near the stomach, and it filters blood as part of the immune system. Spleens vary in size and shape, but it's typically fist-shaped and around four inches long. The spleen recycles red blood cells and stores platelets and white blood cells. It also helps fight certain types of bacteria, including the kind that causes meningitis and pneumonia.
The spleen can rupture or be perforated during a car accident and lead to serious internal bleeding. Sometimes the spleen will not rupture until days or weeks after the accident happens. These are typical symptoms of a damaged spleen:
Internal bleeding
Clammy, cool, pale skin
Weak, rapid pulse
It's critical that you seek medical attention immediately following a car accident, as it may not be immediately evident that you have suffered an injury to an organ. A physician can help to identify injuries that you may not even be aware of.
How Are Damaged Organs Treated?
Even a minor bruise to an internal organ requires medical attention at a hospital. The medical staff will want to confirm that there is damage and see how bad it is with an imaging test, such as a CT scan or ultrasound. You may also have the following treatments while you are there:
Close monitoring by medical professionals
Rest and intravenous fluids
Tests for complications and other injuries
At the very least, you will need to rest at home and stop certain activities until the organ heals. Significant injuries can require more intensive treatment such as a blood transfusion, surgery, or procedures to drain excess fluids or find and stop the source of bleeding.
What Complications Can Occur From Organ Damage?
Organ trauma can be deceiving because sometimes the severity is not immediately obvious. Internal bleeding can occur slowly for days or even weeks before organ malfunction or failure is revealed. Organ failure can be life-threatening and requires immediate medical attention.
When the kidneys are seriously damaged and can't function correctly, it may be necessary to have dialysis. Other complications include urine leakage, infections, anemia, and blood pressure issues.
If a spleen is severely harmed, you can have surgery to remove it. Living without a spleen is not unusual, but it can compromise the immune system and increase the potential for dangerous infections.
Car Accident Ejection Injuries
According to the National Highway Traffic Safety Administration (NHTSA), nearly 30 percent of all fatalities that result from a car accident occur because of an occupant ejection from the vehicle. To this day, it remains to be one of the deadliest types of car accidents that one could be involved in.
Immense damage is dealt to the body of an occupant that pierces through the windshield at high speeds and impacts the ground. Statistics show that individuals ejected from their vehicle during an accident will likely be severely injured or even killed at a rate of three times more than that of an occupant that remained within the vehicle during a crash.
These kinds of accidents can happen for a variety of reasons, but most often it is attributed to negligence. That's where the vehicle ejection attorneys of Caffee Law come in. With over 10 years of experience in helping clients overcome events caused by negligence, we have earned the financial compensation they need to properly recuperate time and time again. 
Whether from a defective seat belt or a car accident caused by another negligent driver, if you or someone you love has sustained severe injuries or died from a vehicle ejection caused by negligence, contact the Seattle vehicle ejection attorneys of Caffee Law at (206) 312-0954 to set up your FREE consultation today.
What Causes Vehicle Ejection?
Throughout the last century, car and truck manufacturers toiled over design after design in order to ensure that their customers have the safety equipment they need to stay within the vehicle should an impact occur. Nothing, however, is foolproof. Sometimes safety devices fail, unable to secure the driver or other occupants safely within the vehicle.
Drivers of both passenger cars and large trucks are at risk of vehicle ejection, despite how light or massive their vehicles can be. This is due in part to several different causes that can increase the susceptibility of an ejection, namely:
Defective Seat Belts
Rollover Accidents
Inferior Window Glass (e.g. laminated glazing vs. tempered glazing)
Defective Door Latches
Damaged Side Windows
Roof Strength
Some Curtain Airbags
Speeding at the Time of the Impact
These causes often lead to two types of ejections that are prevalent in occupant ejection accidents:
Partial Ejection – This type of ejection normally happens when there is a malfunction with a seat belt during a vehicular crash. The body of the occupant partially penetrates through the windshield or out of the side window after an impact. This type of ejection also poses more of a danger if the vehicle is rolling over.
Complete Ejection – During this type of ejection, the driver is completely ejected from the vehicle. It is not uncommon for the driver to sustain grievous injury or death from the impact through the glass or on the ground, but to make matters worse, rolling vehicles and passing vehicles also pose a dangerous risk, potentially rolling or running over the ejected occupant.
If you or someone you love was involved in a vehicle ejection due to faulty safety equipment or by a negligent driver, the vehicle ejection attorneys of Caffee Law can help you win the compensation you need to cover the injuries you sustained and more.
How to Prevent Vehicle Ejections?
As the old adage goes, "An ounce of prevention is worth a pound of cure." This means that taking precautionary measures before getting on the road could likely save your life. The following rules are key preventative measures to take in order to ensure that you and your loved ones remain safe should a car accident occur:
Maintain Your Vehicle – Properly maintaining your vehicle on a regular basis can spot any problematic issues such as defective seat belts, windows, door latches, or other vehicle components that, if in poor condition, could cause a vehicle ejection.
Don't Speed – Always stick to the speed limit when you are operating your vehicle. High speeds can propel an occupant out of the cab if safety equipment fails. Always leave with plenty of time to get to your destination without having to rush.
Double Check Your Child's Safety Seat – Always check and recheck to see if your child's safety seat is properly installed and secured.
Encourage the Use of Seat Belts – Seat belts are there to save lives should a car accident occur. Most vehicle ejection fatalities occurred because the occupant wasn't wearing their seat belt.
Most Dangerous Roadways in Seattle
There are numerous factors on the roads that make certain intersections and highways in Seattle more dangerous to drive on than others. Caffee Law has compiled a map of the intersections that have the most accidents in Seattle. If a person dies in a car accident, the family members of the deceased can file a wrongful death action against the negligent parties.
Sources:
https://mynorthwest.com/1401658/seattle-collision-investigator-most-dangerous-intersections/
https://mynorthwest.com/1665238/seattle-collisions-dangerous-intersection/
What Is the Cost of a Car Accident Lawyer?
Caffee Law takes all car accident cases on contingency. You won't have to worry about paying upfront fees or costs to receive legal representation. We don't expect payment of our legal fees until we recover financial compensation. If we lose your case, you won't have to pay us.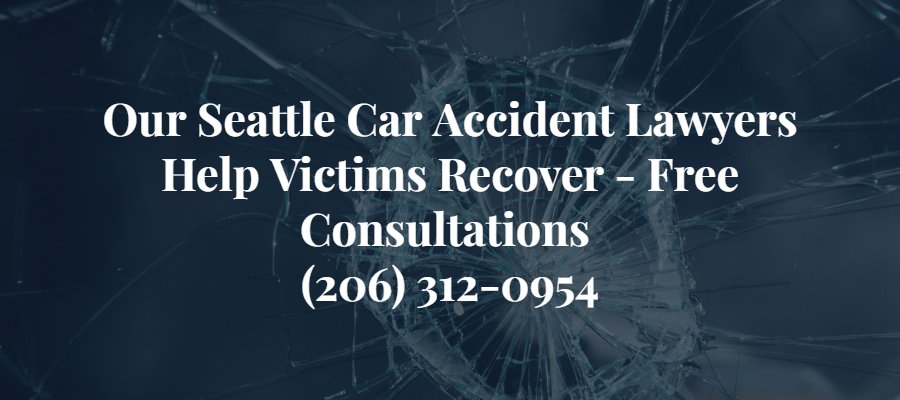 What Is the Legal Process for a Car Accident?
Whether you decide to file a personal injury claim or lawsuit, there are strict deadlines you must comply with, or you could give up your rights to compensation. Insurance policies typically list the timeframe they require accident victims to file a claim. Some state that you only have 30 days from the crash date to begin the claims process; others give you a more substantial timeframe.
You have a bit more time if you want to sue the at-fault driver. There's a three-year statute of limitations in Seattle, WA. That means you have three years from the accident date to file a lawsuit, or you could lose your right to sue. You might think that's plenty of time, but the personal injury claim negotiations, which typically precede a lawsuit, can be a lengthy process. That's why it's critical that you start working on your case immediately.
Accident Claims Process
Car accidents are always an unsettling experience. Filing an insurance claim may be unfamiliar to you, and it can feel overwhelming to handle on your own. Having a Washington car accident lawyer from Caffee Law on your side gives you someone to rely on who knows how to deal with insurance companies and has your best interest in mind. We can manage the process and advise you on every step, so you are not alone in the ordeal.
Our process when dealing with motor vehicle accidents.
We'll provide a consultation at no cost.
During a free consultation, we will be able to answer all of your questions and evaluate your case. There is no obligation to hire us, and we don't charge you any fees unless we win your case.
We'll procure proper medical documentation.
If you haven't already sought medical care, you will need to right away, even if you don't think your injuries are substantial. Sometimes serious injuries do not materialize until significant time has passed. Once we have your medical records, we can use them to prove your injuries and structure your case.
We'll investigate your case.
Insurance companies do their own investigations to evaluate what they think your claim is worth, but we certainly don't take their word for it. We thoroughly explore what happened at the scene of the collision, how injured you are, and what the actual costs will be for you now and in the future.
We'll calculate your costs.
We figure out how much the insurance company should pay you by calculating all the expenses that come along with your car accident. This amount is referred to as "damages." We make sure that no costs are overlooked, so you may be able to receive the full amount you deserve.
We'll negotiate assertively with the insurance company: Insurers know what they want to offer as a settlement, but our experienced attorneys handle the negotiations for you to make sure you aren't short-changed.
We'll reach a fair settlement.
Many claims are successfully handled without going to court. Caffee Law works to achieve the largest settlement possible to cover your medical expenses, pain and suffering, and lost wages.
With all the assistance we offer during the claim process, there is no reason you should try to navigate it on your own. You can leave the paperwork and negotiation to us and receive a larger settlement than you could otherwise. When an insurance company refuses to make you a fair offer, it is usually the result of not having representation.
How Do You Prove Negligence in Washington?
When you file a lawsuit, you must base your case on a specific legal theory. Negligence is a common theory used in car accident cases. It's because of a driver's negligent actions that you sustained injuries. There are five elements you must prove to base your case on negligence:
Duty
The other motorist owed you a duty of care, meaning they must take reasonable care to avoid injuring others.
Breach of duty
They breached their duty.
Cause in fact
If it weren't for their breach of duty, you wouldn't have suffered harm;
Proximate cause
The at-fault driver's action or inaction directly caused your personal injury; and
Damages
You incurred damages.
You also have the option of seeking punitive damages when you file a lawsuit. Unlike other damages, such as medical bills and mental anguish, punitive damages are intended to punish the liable party rather than compensate you for the injured victim's losses. A jury will only award this to you if you can provide clear and convincing evidence that the at-fault driver exhibited acts of intentional, malicious, or reckless conduct.
What Damages Can I Recover After a Car Accident in Washington?
When it comes to auto insurance, states fall under the category of either at-fault or no-fault. The vast majority of states are at-fault states, including Washington. This means the party who is at fault for an accident is also responsible for vehicle damage, injuries, lost income, etc. It also means that the victim in an accident has the right to sue.
Most people do not have their own funds to cover the costs for a collision they cause, so having an auto insurance policy with liability coverage is mandatory in Washington. Once a car accident happens, the insurance carrier steps in to absorb these losses on behalf of the driver, and they can pay up to the maximum policy limits. These are the minimum amounts of liability insurance that drivers are required to carry:
$25,000 for injuries or death to one other person
$50,000 for injuries or death to all other people
$10,000 for damage to another person's property
These liability limits allow for compensation for the injured party's damages. Damages refer to the expenses and losses an accident victim incurs. They may cover:
Medical bills
Pain and suffering
Lost wages
Lost earning capacity
Mental anguish
Car repair or replacement costs
Disability or disfigurement
Out of pocket expenses
Loss of consortium
If the cost of damages goes beyond the policy limits, the insurance policy is not required to pay more, but the at-fault driver can be held personally responsible.
Washington drivers have a more extensive range of options after a car accident than drivers in no-fault states. In those states, accident victims must use their own personal injury protection coverage for medical bills and other out-of-pocket expenses, even if the other driver caused the collision.
When accidents happen in Washington, people who suffer injuries or damage can take action in one of these three ways:
File a claim with their own insurance company if the loss is covered under their policy. The insurance company will then pursue what is called a subrogation claim against the insurance carrier of the at-fault driver's insurance carrier.
File a third-party claim directly with the insurance company that covers the at-fault driver.
File a personal injury lawsuit in civil court against the at-fault driver. The car accident attorneys at Caffee Law have extensive knowledge about Washington car insurance law and are well-equipped to handle your claim to achieve the best outcome.
Our Seattle Car Accident Attorneys Are Here to Help
What are Common Causes of Car Accidents?
An accident can happen in any location at any time of the day for any reason. Typically, driver error or inattention leads to crashes and traumatic injuries. The most common causes of car accidents include:
Distracted driving
Distractions are everywhere. If someone takes their eyes, focus, or hands off the task of driving, they no longer have full control over their vehicle. Common distractions include texting, applying makeup, and reaching for an item.
Speeding
Driving too fast is dangerous and reckless. If you're traveling above the speed limit or driving at an increased speed in poor weather, you could easily lose control of your vehicle.
Driving under the influence
Alcohol and drugs could impair a person's driving abilities. It slows down reaction time, reduces motor skills, and impairs judgment.
Tailgating
Following another person's vehicle too closely decreases the chance of avoiding a crash if they stop or slow down suddenly. Always follow the three-second rule when you're driving behind someone.
Failure to yield
There are traffic laws for a reason, which dictate who gets to proceed first through an intersection, when it's appropriate to turn, or how to merge onto a highway. Ignoring someone else's right of way can result in a severe collision.
Fatigued or drowsy driving
Anyone who gets behind the wheel feeling tired risks causing an accident. The effects of fatigue are similar to those of driving drunk.
Reckless driving
Weaving in and out of traffic, road rage, and unsafe lane changes are all examples of reckless driving that put other people in harm's way.
Contact Our Seattle Car Accident Attorney Today
Did you sustain catastrophic injuries, or was your loved one killed in a car crash in Seattle? It will be critical for you to retain legal counsel quickly to give yourself the best chance of recovering as much compensation as possible. Though no amount of money can take away your pain or bring your loved one back, we can help you get the justice you deserve.
Caffee Law represents residents and visitors involved in car accidents in communities all over the Greater Seattle area. Call(206) 312-0954or contact us online to schedule a free consultation and evaluation of your case.