Truck accidents are one of the most common incidents that lead to personal injury lawsuits. In a collision, a truck's weight and size can cause serious bodily harm to passengers in smaller cars. This is oftentimes caused by negligence or recklessness on behalf of the driver or the company that owns the truck.
If you have suffered an injury in a truck accident, our Federal Way truck accident attorneys can help.  You may be able to collect compensation that can help pay for your medical expenses and other monetary losses. Caffee Accident & Injury Lawyers has been handling truck accident cases for years and is here to help. Contact us whenever you're ready by calling (206) 312-0954 or fill out our online contact form.
Federal Way Truck Accident Legal Resources
What Are Some Common Truck Accident Injuries?
The injuries sustained in a truck accident can be catastrophic. Commercial trucks weigh considerably more than passenger cars – around 20 times more, on average. This makes the damage to the smaller vehicle and its passengers much worse than to the large truck. Some common injuries include:
Spinal cord injury
Neck and back injury
Broken bones
Lacerations
Burns
A long-term or permanent injury can result in thousands of dollars in medical costs alone. Even a minor injury can be temporarily debilitating and life changing. At Caffee Accident & Injury Lawyers, we represent clients with a wide range of injuries from automobile and truck accidents.
What Are Common Causes of Truck Accidents in Washington?
Washington is an at-fault or tort state for automobile accident claims. This means that you must determine who is at fault for your truck accident before you can file an injury claim. Most truck accidents in Federal Way are 100 percent preventable. They occur when one or more parties are negligent, or fail to exercise reasonable care. If negligence contributed to your truck accident, you can file a claim against the at-fault party.
Impaired Driving
Substance use is a common problem among truck drivers. Truckers may turn to stimulant drugs to get through long nighttime drives, for example, or cope with the stress of their jobs by drinking alcohol. If a truck driver operates a big rig while under the influence, this can lead to a devastating accident. The legal alcohol limit for commercial drivers is 0.04 percent in Washington – half the limit for noncommercial drivers.
Speeding
Large commercial trucks have reduced speed limits in Washington. On urban interstates, they cannot exceed 60 miles per hour, regardless of what speed limit is posted. This is because large trucks have longer stopping distances than smaller passenger cars, making it more important for them to maintain safe speeds. Speeding increases the chances of rear-end collisions and other types of truck accidents.
Distracted Driving
Truck drivers are often guilty of driving while distracted by food, drinks, phones, FaceTime calls, videos, books and the radio. Many truck drivers turn to these distractions to stave off boredom during long solo drives. Truck drivers have a legal obligation to pay attention to the road and keep their hands on the wheel at all times, however. A distracted truck driver can be held liable for a related truck accident.
Violated Federal Regulations
Something that makes truck accidents in Federal Way unique is the possibility of a violated federal regulation causing or contributing to the crash. All trucking companies must obey strict federal laws during their operations. These include hours-of-service restrictions, rules for how to load and secure cargo, alcohol and drug testing requirements, driver hiring protocols, and truck maintenance minimums. Even a small infraction could compromise the safety of the transport.
Poor Weather Conditions
A large truck does not perform well in bad weather, such as rain or snow. These vehicles already need more stopping distance and room to maneuver the smaller cars. Poor weather conditions or roadway defects can compromise safety further, contributing to a truck accident.
Once you or your lawyer determines the cause of your truck accident, you can proceed with an insurance claim or personal injury lawsuit against the at-fault party or parties.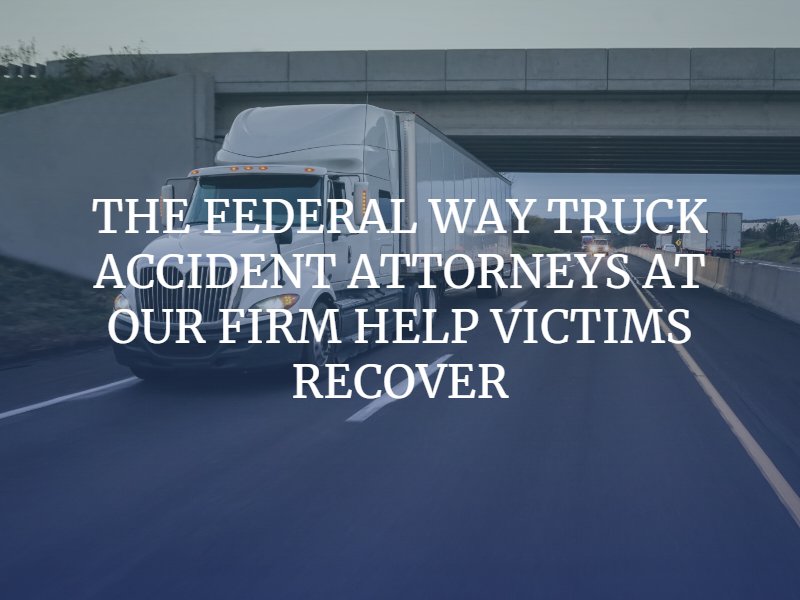 What Are My Legal Options After a Truck Accident?
If you have been injured in a truck accident, you may be entitled to compensation for your injuries. Depending on the circumstances, you may have more than one option. First, you may have the option of filing an insurance claim. If the insurance company isn't willing to work with you or isn't willing to provide you with enough compensation, you may also have the option of filing a personal injury civil lawsuit.
This is something that an experienced Federal Way truck accident lawyer can help you decide. They will be able to provide more information about the chances of success in your case, guide you through the litigation process, and help ensure that your interests are protected throughout the entire ordeal.
What Makes a Truck Accident Case Unique?
Truck accident cases in Federal Way come with several factors that set them apart from typical car accidents. The catastrophic injuries often involved, for example, may come with a lifetime of medical costs and other expenses for which a victim may deserve financial compensation. This makes it more important to hire an attorney to recover the amount you deserve. Crash victims often rely on attorneys to help them navigate the issues that are unique to truck accident cases.
Federal Laws
A crash with a commercial truck involves federal rules and regulations. The Federal Motor Carrier Safety Administration enforces these rules. They include hours-of-service restrictions for truck drivers, driver licensing and training requirements, fleet maintenance standards, and cargo securement rules. If a trucking company or truck driver violates any of these rules, it can result in a truck accident.
Trucking Company Liability
Liability in a truck accident case often involves the doctrine of vicarious liability. This is a rule that holds employers responsible for the actions and mistakes of their employees. This doctrine generally applies to trucking companies for accidents involving their trucks and drivers, even if the truck driver is an independent contractor. Trucking companies make powerful adversaries, as they have aggressive legal teams to combat liability claims.
Evidence
The evidence that is available in a truck accident case in Federal Way can include the truck's black box, cell phone records, truck driver employment and medical records, the trucking company's compliance history, truck inspection reports, truck repair and maintenance records, and event data recorders. An attorney can help you preserve these unique types of evidence before the trucking company can intervene.
Rapid Response Team
Trucking companies often deploy something called the rapid response team to the scene of a truck accident right away – sometimes, before the cops arrive. This is a team of investigators and analysts who work quickly to clean up the scene of the crash and acquire evidence. The best way to combat this team so that you can preserve and collect your own evidence is by contacting an attorney as soon as possible for assistance.
What Is Comparative Fault?
In Washington state, it's possible for you to recover monetary damages in a personal injury lawsuit even if you are partially responsible for the accident or your injuries. Whatever amount you are awarded at trial will be reduced by the percentage that you are found to be responsible. If the judge or jury deems you to be 20 percent at fault, your monetary damages will be reduced by 20 percent. Even if you are partially responsible for the accident, you can still recover compensation.
What Damages Can I Recover After a Truck Accident?
Depending on your circumstances, there may be a number of different types of damages for which you can recover compensation, including the following:
Medical bills
Lost wages/lost earning capacity
Property damage costs (if applicable). This would include vehicle repairs or replacement if needed after an accident caused by someone else's negligence. It could also entail replacing items in your car that were destroyed during the incident, such as your laptop or other electronics.
Should I Accept a Settlement Offer From an Insurance Company?
No. You should not accept a settlement offer from an insurance company until you've spoken to an attorney. Insurance companies are primarily focused on their profits and bottom lines – not the well-being of their clients. This means they use many tactics to try to save as much money as possible on claim payouts. Dealing with an insurance company often involves unnecessary delays, wrongfully denied claims and inadequate settlement offers. 
Once you say yes to a settlement and sign the liability release waiver sent to you by the insurer, you typically cannot reopen your case – even if you later discover that your injuries from the trucking accident cost more than you originally thought. This is why it is important to consult with a lawyer before accepting a settlement. You can trust the case evaluation you receive from an attorney, as your attorney will want to maximize your financial recovery.
When dealing with an insurance company and the representative assigned to your case – known as the claims adjuster – don't agree to give a recorded statement. Be careful what you say; give short, concise answers to questions and if you don't know the answer, say that you don't know rather than speculating. Do not admit fault for the trucking accident. Most importantly, don't accept a settlement offer from an insurance company until you discuss the true value of your truck accident case with an attorney.

How Much Time Do I Have to File a Truck Accident Claim?
If you need to file a claim following a truck accident in Federal Way, Washington, it is critical to do so quickly. Washington's statute of limitations (RCW 4.16.080) gives you no more than three years from the date of your crash to file an injury or property damage claim. While this may seem like a lot of time, the deadline can approach quickly – especially if you suffered serious injuries in the accident and are focused on your recovery and rehabilitation rather than taking legal action. 
If you miss your deadline, you will give up the right to recover financial compensation, even if you have evidence that the trucking company is responsible for your serious injuries. The courts in Washington rarely grant exceptions to the rule and will most likely dismiss a case that is filed after the statute of limitations has expired. However, if you didn't discover your injuries right away, a loved one died in a fatal truck accident and you wish to file a wrongful death lawsuit, or the crash involves an injured minor, you may have additional time to file.
It is important to act quickly and contact a truck accident lawyer in Federal Way immediately – not only so that you don't miss the statute of limitations, but also so that your lawyer can preserve key evidence. If you wait too long, important evidence that is necessary to support your claim may be gone or no longer admissible; for example, eyewitnesses may not remember what they saw, or a cellphone company might delete important records. The sooner you contact an attorney about a truck accident claim, the better.
What Should I Do After a Truck Accident?
If you have been involved in a truck accident, take the following steps:
Seek medical attention as soon as possible. Even if your injuries don't seem severe at first, it is important to monitor them and seek treatment immediately so that any complications can be addressed quickly and effectively.
Document all of the details surrounding the accident including where it happened and what time/day it occurred.
Contact a Federal Way truck accident lawyer that has personal injury litigation experience and will help ensure that your interests are protected throughout this process from start to finish.
Contact Caffee Accident & Injury Lawyers | Federal Way Truck Accident Lawyers
If you are interested in filing a personal injury claim, Caffee Accident & Injury Lawyers can help. When you hire us, we are always available to assist, either by phone, email, text, or in person. We have the resources of a large firm with the personable feel of a smaller firm, allowing us to truly handle each case we take with the care it deserves. For help with a claim or if you need any questions answered, contact us for a free consultation at (206) 312-0954 or fill out our online contact form.