With the start of summer comes holidays known for celebrations that are marked by fireworks, such as Memorial Day and the Fourth of July. In Washington State, however, fireworks are banned. It is illegal under state law to purchase and discharge fireworks without a proper license or permit as improper use of fireworks can lead to serious injuries and fires.
However, Washington law leaves room for local firework regulations that may differ from state laws.
What Are Washington State's Firework Laws?
According to the Revised Code of Washington Section 70.77.255, no person – without the required licenses and permits – may manufacture, import, possess or sell any fireworks for any use. This includes for both private and public displays of fireworks. No person may discharge display fireworks at any location in Washington State except as authorized by a state license or city or county permit. The law prohibits anyone under the age of 18 from obtaining a firework license or permit.
Are There Exceptions to the Rule?
Yes. Section 70.77.395 of the law lists certain exceptions that make fireworks legal in the state. This law gives specific dates and times where consumer fireworks may lawfully be sold and discharged, subject to local regulations. If consumer fireworks are lawfully purchased in Washington, no license or permit is required to possess or use these fireworks. The dates that are listed as exceptions to the rule in Washington are:
June 28: 12:00 p.m. to 11:00 p.m. (sales and discharge)

June 29 to July 13: 9:00 a.m. to 11:00 p.m. (sales and discharge)

July 4: 9:00 a.m. to 11:00 p.m. (sales) or midnight (discharge)

July 5: 9:00 a.m. to 9:00 p.m. (sales) and 11:00 p.m. (discharge)

December 27 to 30: 12:00 p.m. to 11:00 p.m. (sales), no discharge

December 31: 12:00 p.m. to 11:00 p.m. (sales) and 6:00 p.m. to midnight (discharge)

January 1: midnight to 1:00 a.m. (discharge), no sales
Keep in mind that if your city or county has firework laws that prohibit them on these dates, municipal laws take precedence. For example, in Snohomish County, fireworks may only be discharged on the Fourth of July in designated areas, and it is illegal to discharge fireworks before and after the 4th. Make sure you know the law in your county before using any type of fireworks – including sparklers.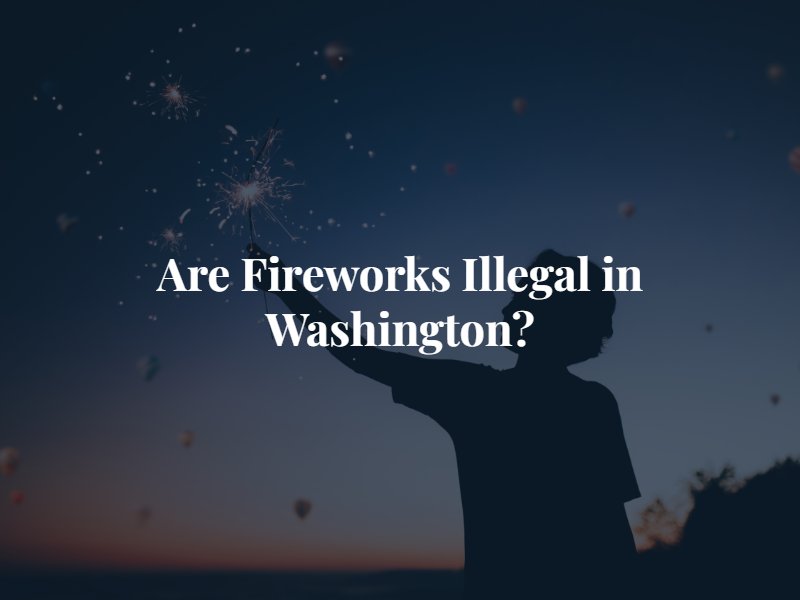 Why Do Some States Have Laws That Ban Fireworks?
There are many different reasons for states to ban fireworks. Many use votes to get the input of citizens on whether or not to ban them. These votes may be based on reasons such as noise concerns in neighborhoods. In other cases, states may impose emergency bans on fireworks during periods of high fire danger, such as during a drought. It is important to keep up with the latest regulations on fireworks in your area to make sure you don't unintentionally break the law.
What Are Common Injuries Associated With Fireworks?
Another potential reason for firework bans is citizen safety. Despite many people assuming that consumer fireworks are safe since they are available for purchase at retail stores, they are associated with many serious injuries. Some firework injuries are severe enough to take victims' lives. The most common firework injuries include:
Burn injuries

, especially to the hands and fingers

Injuries from explosions or shrapnel

Lacerations

Broken bones

Eye injuries

Hearing damage

Facial injuries

Lost digits

Permanent scarring or disfigurement
The best way to keep yourself safe is to leave firework displays to the professionals. Find a display near you that is put on by licensed professionals rather than purchasing your own fireworks in Washington. If you do suffer a serious firework injury, contact a personal injury attorney for a free consultation. If the firework had a product defect or someone was negligent – such as a property owner or the person who lit the firework – you may be eligible for compensation.